Return to Headlines
Culinary Arts Pathway serves up a learning buffet
The Culinary Arts Career Pathway offers District 214 students the opportunity to explore careers in food preparation, service and management through a combination of classroom courses and work-based experience in professional kitchens throughout the community.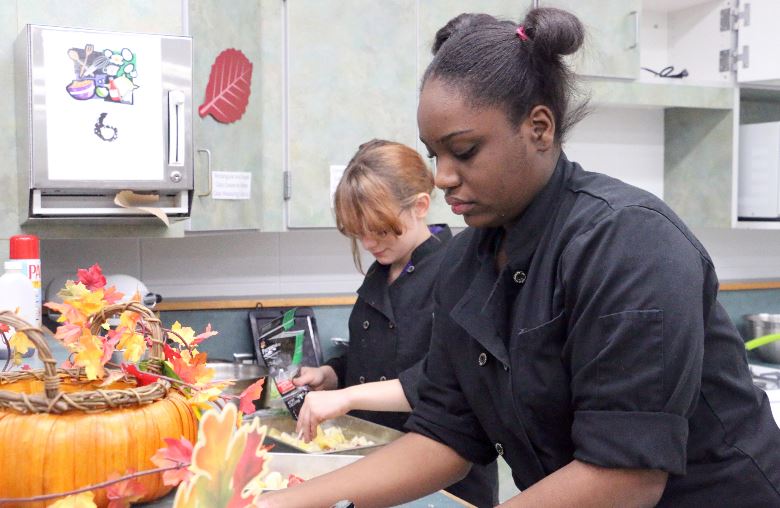 Like all Career Pathways, Culinary Arts begins with the fundamentals. "Every single class starts with safety and sanitation," said Elk Grove High School culinary instructor Erin Ludewig, explaining that these lessons establish the foundation for everything that follows. In Foods 1 and 2, students earn the basic safety certification, solidify knife skills and study measurement, conversion and basic recipe prep—all skills that carry over into actual jobs. For example, Elk Grove High School senior Martin Lopez says he has already used the measuring conversions that he memorized in Foods 1 and 2 for his job at Panera Bread.
After mastering these classes, culinary students advance to ProStart 1and 2, where they earn an official food handlers certification from ServSafe that is recognized by most restaurants and the National Restaurant Association Educational Foundation.
In the ProStart class sequence, students also drill deeper into the outside-the-kitchen skills they will need to succeed in the culinary world. "Not only are they learning food preparation skills," Ludewig said, "but they're learning the professional aspect of running the business too—communication and professionalism, menu development and marketing."
This deeper level of understanding, Ludewig said, helps her students understand that they are not limited to "standing in a kitchen." Her goal is to foster their passion for the culinary arts through career discovery, whether that be event catering and banquets, cooking on the line or pastry artistry.
For Ludewig, the most rewarding element of the Culinary Arts Career Pathway is seeing the tangible results of her students' growth and development in their skills. She also points to their work in their internships. "The most fulfilling [are] things like the internship, where my students are going to create their own creations on a restaurant menu."
ProStart 2 students advance to internships with local businesses to refine their culinary skills and discover in practice if this is the right career pathway for them.
One of District 214's most dedicated community partners is Frato's Culinary Kitchen in Schaumburg. After reaching out to Ludewig to host a pizza-creating competition for D214 students, Frato's became a D214 community partner in 2017.
Frato's owner Mike Kudrna describes his kitchen as "a unique concept built on evolving with the ever-changing landscape" that "serves as a training ground for passionate young culinary students."
Kudrna sees the D214 partnership as a "natural extension" of his business, which is committed to student success and the success of small businesses. "Helping others become something better than they thought they could become is a reward that keeps us focused and energetic," Kudrna said.
At Frato's, students are trained in specific hands-on skills, techniques and methods of cooking, but most importantly, they learn how to work within a team.
The knowledge the students acquire while prepping, cooking and serving real customers is extensive. Lopez, who interned at Frato's, said from pizza to mozzarella sticks, he had "at least made one of everything on their menu."
Kudrna, who went to college to learn the business side of culinary arts, speaks to the benefits of working hands-on in a kitchen. "I think it would have been better if I looked at somebody I idolized, a mentor, somebody already in the business world, and just told them, 'Look, I will work for you for free, I will do anything you ask. I just want to be around you, when you work, to learn from you.' And I believe that I would have been further ahead than paying the money I did for college for what I went for."
At the restaurant, students work on their skills in both operations and creation. Kurdna believes students need to be well-rounded in both areas in order to survive in a professional environment where customers reward both. Students refine their creative abilities by crafting pizzas from scratch that are served by the slice at Frato's and then voted on by customers as part of a competition. The competition enhances learning in a fun and competitive way. "That's what starts the learning process, we go and we evaluate, we coach them, and they start to modify and adjust their pizzas." These student created pizzas will be brought back as slice specials next year and previous student created pizzas have been featured on Frato's menu for six months. "I believe firmly that these kids need to start creating very early," says Mike "making sure they have confidence in their ability to create something."
The application of classroom skills to a real world kitchen at Frato's and other area establishments provides a well-rounded experience. "We believe school can only teach so much as real-world experience is required to test yourself and build real skills," Kudrna said.
From a student's perspective, Lopez said he recognized the value of transitioning from familiarizing himself with the kitchen, to learning industry practices and finally to filling orders on his own. He said one of his biggest takeaways from the internship has been learning to be more vocal on a team, adding,"You have to communicate with everyone because everyone is doing something different."
Overall, Lopez said, "I love doing it, and it's really fun."
But the internship is also designed to show students the reality of culinary careers, as they grapple with the not-so-glamorous side of the business.This exposure, Kudrna said, is what "ensures growth in their passion or a realization that the industry is not the right fit for them."
He believes by helping these students grow and refine their skills, he is not just helping his business and the students but also the greater community. "By helping others, we improve ourselves and everything [and] everyone around us," he said. "Who wouldn't want to be a part of that?"