Return to Headlines
Student takes control of her future through D214 Specialized School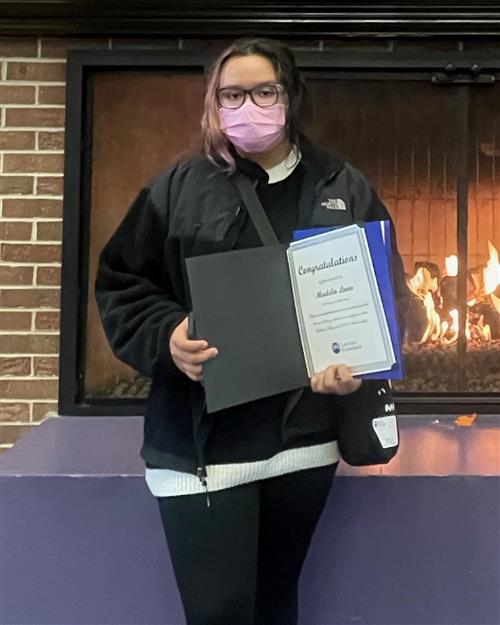 Published January 13, 2023
When Madelin Luna first arrived in District 214 as an incoming junior, she faced challenging adjustments. During the pandemic, she had been taking all her classes remotely at her previous school—and loved it. But entering the 2021-22 school year, remote classes were no longer an option. The transition felt a bit overwhelming. She felt anxious.
She turned to her counselor, who told her about the Vanguard program at District 214's Specialized Schools. Vanguard offers a personalized learning experience for students in a smaller, non-traditional setting—with core academic classes on a self-paced digital platform.
Madelin took a tour of Vanguard and said, "I knew right away I wanted to go there." She applied and was accepted, and loved it from the start. "My year was amazing," she said. "I loved how well I got along with the teachers. The environment wasn't overwhelming at all; it was easy to fit in."
Now entering the second semester of her senior year, Madelin has flourished at Vanguard. She has earned a stellar GPA, and in recognition of her achievements was named the 2022 recipient of the annual scholarship awarded by the Latino Summit, a program led by local Latino educators.
Madelin also clearly has a love of learning and a clear direction for her future. "Since I started high school, I knew I wanted to get ahead in my future plans," she said. "I started looking at the early college opportunities in District 214."
She currently is earning early college credit in two ways. She is a student at the District 214 Early College Center, where she takes general education college English and math classes. The courses are offered online through Arizona State University, but students have on-site help from District 214 teachers.
Madelin also takes classes at Harper College via the District 214 Middle College program—which offers students planning to attend Harper a chance to get a head start on their college degrees.
Hoping for a career in healthcare, Madelin has applied to Harper's Diagnostic Medical Sonography program. While a District 214 student, she's taking some required Harper general education courses and also courses in the Harper degree program, including anatomy and physiology. Her current goal is to become an ultrasound technician.
"I knew right away when I met Madelin that I had a high flyer," said Vanguard counselor Patrick Kain. "She's so ambitious, but also humble and hard-working. She's like a lot of our Vanguard students, who are doing really amazing things in our non-traditional setting."
Madelin usually starts her day at Harper, then takes a taxi to Vanguard and spends her afternoons working in the Early College Center. She said she loves her schedule and is looking forward to next year as a full-time student at Harper.
"I love that I have been in control of what I am doing, working at the things that I have chosen—and making the most of my high school experience," Madelin said. "Many high school students forget there are a lot of opportunities just waiting to be used. You have to look for them, and ask the right people. And learn to advocate for yourself."