Return to Headlines
EGHS teacher earns state VFW top honor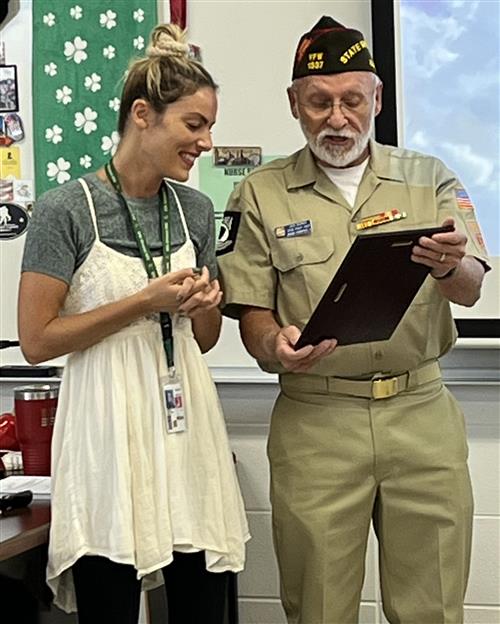 Published September 12, 2022
In a case of selfless work and dedication earning due notice, Elk Grove High School Social Studies teacher Stephanie Byrne has been named the Veteran of Foreign Wars' Illinois Teacher of the Year.
Byrne has for many years gone above and beyond in recognizing and supporting the community's veterans. For the past nine years, she has devoted countless hours to organizing the school's Veterans Day assembly, which goes far beyond a basic salute and features guest speakers, music and routinely draws more than 100 service members past or present.
Tim Phillips, Elk Grove High School's Division Head for Social Science and World Languages, explains that the school has enjoyed a long-standing and close community connection with VFW Post 9284, including collaboration on a national scholarship essay contest that dates back almost two decades. Members of another local - Post 1337 in Mount Prospect - also became familiar with Byrne's work and made this year's local nomination that eventually led to the statewide honor.
In addition, Byrne has since 2017 collaborated with Post 9284 to initiate and oversee the Mark Evans Patriotic Senior Scholarship, in memory of one of the Post's members. As of this year, the scholarship provides two Elk Grove seniors with $2,000 each toward college tuition. Beyond that, she has done extensive service work with Packages For Patriots, a local organization focused on sending care packages to service personnel abroad.
Byrne, who won both the local and state Teacher of the Year honor, intended to accept the honor during the State VFW Convention in Springfield in June. But her uncle, a Vietnam veteran who served to inspire Byrne's appreciation for veterans, died that week and she chose to attend his funeral service instead. VFW and school officials then surprised her by presenting the award during the first week of classes in August.
"I was incredibly humbled," Byrne said, "to have won the local award and then the state honor."