Return to Headlines
Anchors aweigh: D214 grads' careers soar in Navy Fleet band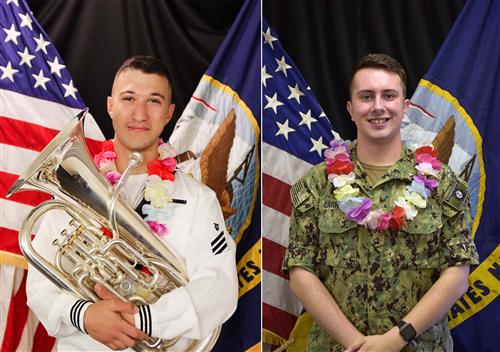 Published April 19, 2022
Two out-of-towners walking along 7th Avenue approach a native New Yorker and ask: "How do you get to Carnegie Hall?"
"Practice, practice, practice," says the New Yorker.
It's the oldest of jokes, but it resonates and helps explain how 2016 Rolling Meadows High School graduate Wesley Carroll and 2017 Prospect High School graduate Matt Gordon have each pursued a passion for instrumental music careers to earn coveted spots in the U.S. Pacific Naval Fleet Band, based in Pearl Harbor, Hawaii. Wes plays trumpet in the Fleet's brass band; Matt plays euphonium in a brass quintet; both perform as part of an overall 40-member ensemble. They play for ceremonial events, ship arrivals, command changes, retirements, school audiences and more.
For both, their everyday work at Pearl Harbor represents a professional dream come true, nurtured to fruition by years of hard work and maximizing their opportunities. As District 214 students, Matt and Wes seized every one of the many musical learning options offered by their schools, sometimes to the point of near exhaustion.
"I was in as much as I could get into without breaking my schedule," Wes recalls. "I was in both jazz ensembles. I was in choir. Both bands. I tried to do every musical I could, in the pit ensembles. Plus, I was a two-sport athlete (golf and volleyball) but I still managed to practice [music]." In addition, Wes took private lessons, to foster his personal music growth and prepare for Illinois Music Educators Association competitions.
Matt, similarly, utilized every learning and performance option: marching band, symphonic band, jazz band and orchestra. Primarily a euphonium player, he learned trombone to add versatility. Outside of school, he had weekly lessons to hone his skills for the All-State band or solo work.
While both worked hard at their respective schools' bands, both also say that fun was always part of the equation. "I had a core group of friends that I still talk to pretty much every day; friendships that last a lifetime were created there," Matt said. "We were all committed to getting better and having great experiences playing together. That's where I caught the bug that made me want to pursue music as a profession."
Both credit their District 214 music teachers – including Wes's father, Kevin, who is Director of Orchestras at Rolling Meadows – with teaching and encouragement that inspired them to choose music as a career path.
After graduation, it was off to college. For Matt, it was the University of Georgia, where he earned a bachelor's in music education. Wes headed for the University of Illinois at Champaign-Urbana, where he earned a bachelor's in classical performance. By this time, both had their sights set on musical performance careers, which are scarce. Realistic pathways, Wes explains, could easily be boiled down to two: professional orchestra or military band.
"I knew going into college that I was primarily interested in being a performer," Matt said. "The world of employment in music is small enough already; with the euphonium becomes even smaller. So I knew my eventual goal would be a military band."
As Wes was nearing the completion of his undergraduate work, he found a Navy audition opportunity in Memphis. He and his mother made the drive and Wes aced auditions totaling 10 hours of play. The Navy accommodated his timeline so that he could wrap up his work at the U of I, and Wes's career was launched. Covid's onset complicated Matt's audition process; he first submitted a recording, followed by a live Zoom performance. But his work, too, eventually resulted in landing a spot with the Fleet Band.
Successfully auditioning was one matter. Navigating through eight weeks of basic training at Great Lakes Naval Station - learning all of a sailor's physical and psychological tools - was another. Matt recalls those eight weeks as "a gut check." While he and Wes both acknowledge the challenge of a training regimen that departed so dramatically from their daily routines as professional musicians, both also credit the training with sharpening certain skills: improved mental discipline and an ability to tolerate difficult circumstances.
As pleased as Wes and Matt were to land spots on the Fleet Band, the pandemic dampened the initial experience, limiting the number of performances and paring the audience size when they did get to perform. For one December 7 commemorative event attended by the Secretary of Defense, the band played for a Covid-restricted audience of fewer than a dozen people and cameras recording the occasion.
Recent months, though, have seen a decrease in practice sessions, an increase in public performances and generally larger audiences - a trend that delights both Matt and Wes.
"As far as experience of playing in the Navy with other musicians, I'm having a blast with it," Matt said. "The euphonium is not traditionally a brass quintet instrument, so I've got the challenge of reading French horn parts, and doing something so new has reinvigorated my artistic fulfillment. The music we play is fun: Sousa marches, ceremonial music and other patriotic stuff, but infused with a lot of music in popular styles. It's great to continue in music with such deeply rooted tradition."
Wes concurs, saying that the Naval band has created opportunities to expand on his classical trumpet foundation. "Since I've been here, I've learned just how versatile my instrument can be," he said. "We do ceremonial music, popular tunes, some R&B. Now in the brass band, we're doing a lot of New Orleans jazz, a lot of popular tunes. There's room for creativity; we're taking arrangements from Disney movies or Bruno Mars or Taylor Swift songs and rearranging with our own ideas."
Both acknowledge some adjustment to living and working so far from their Northwest suburban homes, but living and working in Hawaii offers its own charms: Wes and his wife live five minutes from the beach; Matt uses time off to hike or snorkel and sample a wonderful array of Asian cuisine.
Time will tell, both say, whether they will stay with the Navy throughout their professional careers, but both say it's a viable and in many ways appealing option. Although any decision will be made together with his wife, Wes said, "It's definitely the kind of job I could do for 20 years."
Agreed Matt, "I joined with the intent of this being what I do for a good long while. It's certainly hard to be offered the opportunity to play music and retire in your early 40s and to turn that down when you're still learning new things on a daily basis."