Return to Headlines
First Lady lauds 214's career-connected learning
Published November 17, 2022
Everyone was on the same page when First Lady Dr. Jill Biden and three Cabinet secretaries admired student work and learning opportunities at Rolling Meadows High School on November 14.
Their consensus? Career-connected learning of the kind District 214 has long emphasized is precisely the way to prepare students for good jobs and provide employers with the skilled workers essential to success.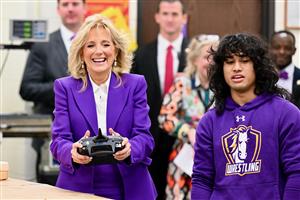 Stopping at Rolling Meadows as part of a National Apprenticeship Week initiative, the First Lady piloted a student-designed robot, admired a student-built high-mileage vehicle and heard students describe the value of their chosen career pathways and work-based learning experiences.
"As a community college professor, I see how badly we need this and how kids can start early," Dr. Biden told students and staff. "Not everyone needs a four-year degree. It's all about jobs."
District 214 has greatly expanded its nationally recognized approach to career-connected learning over the past decade. Students can now connect with any of the district's 1,000-plus community partners. Last year alone, more than 2,300 students participated in more than 4,000 work-based learning experiences. Students discover their futures from among 39 career pathways.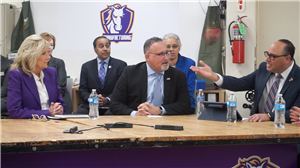 As Dr. Lazaro Lopez, associate superintendent for teaching and learning and moderator of the panel with Dr. Biden, told the guests: "District 214 has transformed our schools to deliver on the promise of career-connected learning. The 12,000 students across our district are positioned to discover their future. This means our students graduate inspired, informed and ready to pursue a career with economic mobility."
Students told guests about the value of their career pathways, work-based learning and, in some cases, their motivation. Rolling Meadows sophomore Kate Foley said the pathways program has solidified her interest in pursuing a career in biomedical engineering. She told the First Lady that her mother is a three-time cancer survivor and she hopes one day to find a better way to deliver treatment to cancer patients.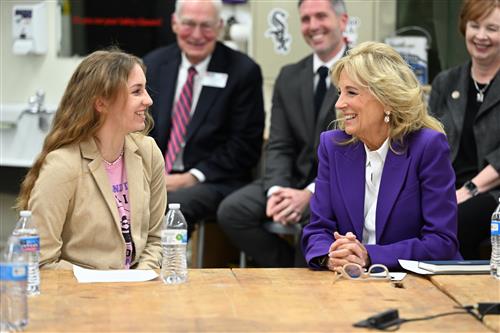 U.S. Secretary of Education Miguel Cardona, for one, was impressed, saying, "If we could take what we have here and bottle it up and have it across the country, this would be a better country."
Also accompanying Dr. Biden were U.S. Secretary of Commerce Gina Raimondo and U.S. Secretary of Labor Marty Walsh, both of whom echoed a long familiar theme in District 214: Leveraging partnerships between schools and employers helps companies recruit and retain talent while strengthening local economies.
During the visit, which also coincided with American Education Week, Secretary Cardona announced a new White House initiative called Raise the Bar: Unlocking Career Success, which aims to connect students to high-quality training programs.