Return to Headlines
Fueled by student engagement, WHS named 'Democracy School'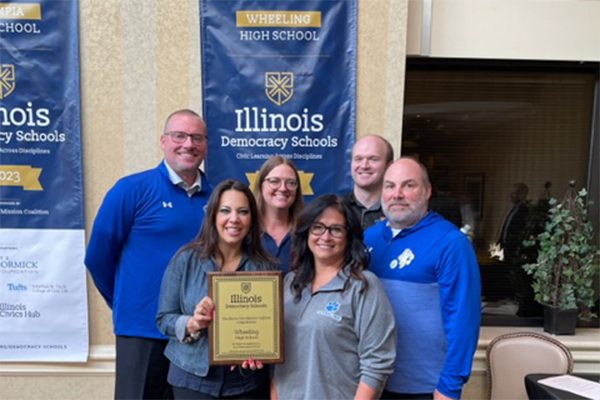 Published November 1, 2023
As a recently minted Illinois Democracy School, Wheeling High School displays a new plaque and banner. But for students and staff, the benefits of this newly earned designation extend well beyond any physical display.
For many students, the extensive and ongoing conversations and engagement that accompany Democracy School status may spell the difference between standing on the sidelines and stepping in to help shape important civic discussions and decisions - now and in the future.
In September, the Illinois Civics Hub welcomed Wheeling as one of five new Democracy schools statewide. Officially, the recognition is "for school-wide commitment to promoting civic learning by all students, focusing on fostering participatory citizenship and emphasizing the fundamental ideals and principles of our constitutional democracy relating to essential questions facing our republic."
Dr. Bradford Hubbard, now in his second year as Wheeling's principal, witnessed the transformative power of Democracy School participation as principal of Antioch High School. So much so that when he arrived at Wheeling, he began asking around: Did his new school have a foundation on which to build an application for Democracy School status? He appointed a self-evaluation committee that analyzed survey data and concluded that not only was the foundation in place, but also that applying for the designation was within reach through additional work and organization.
Dr. Hubbard said Democracy Schools help their students become informed consumers of information. The emphasis on participation, he suggested, is key. "Regardless of whether they're talking about current or controversial topics, this emphasis gives our students the skills to state their beliefs and encourages the idea of open dialogue and hearing perspectives different from their own," he said. "One thing our staff does really well is operate with windows and mirrors, allowing students to see themselves in our curriculum and giving students a glimpse into the experience of others, all while having discussions in a thoughtful and safe manner in classrooms."
In addition, he notes that becoming part of the Democracy School Network provides local and statewide learning opportunities for students and staff through conferences and summits.
Finally, because Democracy Schools are not permitted to rest on their laurels, the work at Wheeling High School is only beginning. Since the program's inception nearly 20 years ago, only 90 of the state's more than 1,000 high schools have earned the designation. Schools must remain actively engaged to earn renewal. Dr. Hubbard and the committee are already at work, identifying opportunities for growth and developing goals to share with staff and students alike.