Return to Headlines
Celebrating Adult Education and Family Literacy Week: September 18-24
Published: September 19, 2022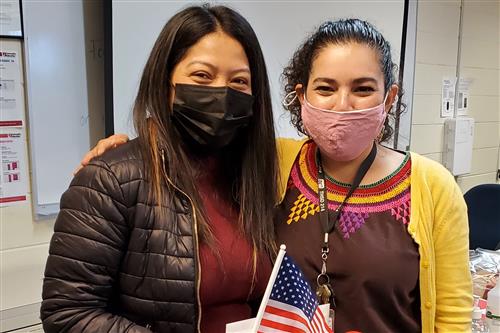 Carolina Ibarra Aguilera and her Citizenship Instructor, Carinna Tello


This week is National Adult Education and Family Literacy Week. District 214 is proud to have more than 1,200 Adult Education students enrolled this fall, representing 62 countries. The District's Adult Education and Family Literacy Program has a variety of classes to offer including English as a Second Language (ESL), citizenship classes and High School Equivalency (GED) preparation. Click here to see all of the programs that are available. Free childcare is available for children five and under. These courses are transforming people's lives.
D214 AEFL Student, Carolina Aguilera
Growing up in Mexico, Carolina Aguilera dreamed of working in healthcare, to help others and to better her life. In September, after a long journey, she will realize her dreams: She will finish her training to become certified as a medical assistant, and is planning to work at a dermatologist's office.
District 214's Adult Education and Family Literacy program has been a proud partner on Carolina's journey. "Carolina is a wonderful, hard-working person. It's hard not to admire what she has done," says Carinna Tello, Family Literacy program coordinator and one of Carolina's teachers.
Carolina came to the U.S. in 1999. She quit high school before graduating, but knowing it was important to graduate, tried to go back to earn her GED. It was hard, she says; she had a baby to care for, and started and quit a GED program twice.
Finally in 2018 she became a student in the AEFL program at District 214. While taking her GED classes in Spanish, she also eventually enrolled in the program's U.S. Citizenship class.
Since she also was working two jobs and taking care of her four children, it took more than three years to finish her courses. "It was hard. I fell asleep in class a couple of times," she says. But she received her high school diploma in April 2021. And to cap off her year, she passed the naturalization interview on Oct. 13, 2021, and became a U.S. citizen. She was one of the District 214 Foundation's Rhonda Serafin Legacy Scholarship Award recipients, receiving $500 to help her pay the citizenship application fee.
"My kids support me a lot, and they are impressed at how much I have done," she says. "I'm a single parent, so I have to be everywhere for them." Two of her children currently are students at District 214's Elk Grove High School.
Carolina says she learned from everyone at District 214. "I had forgotten my math, how to divide—they taught me how to do it again," she laughs. "But they also taught me how to manage my life, how to have a plan for the future. Even just hearing everyone else's story was a big, big help for me."
D214 Family Literacy Program Coordinator, Carinna Tello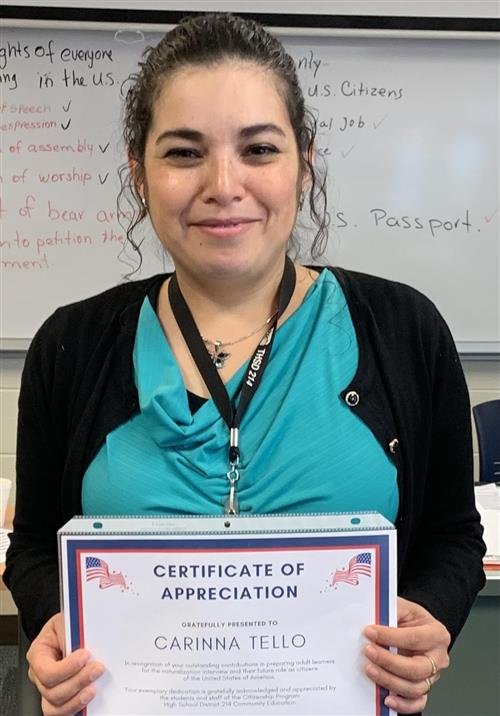 When Carinna Tello came to the U.S. from Mexico 15 years ago, she wanted to learn English. "I came here with my husband and son, looking for better opportunities. But I couldn't understand any English," she says. "I'd hide in my apartment because I didn't want my neighbors to talk to me; I didn't understand what they were saying." Mother of a young son, she found it challenging to find time to take classes.
Then she discovered the District 214 Community Education program's Women's & Children's Center. She registered for classes during the day at the Center, where childcare was offered for her son, and also registered for English as a Second Language family literacy classes at night.
After two to three years of classes, she says she felt she could communicate well. And in May of 2009, she joined the Community Education staff: First she was a child care aide at the Women's & Children's Center, while she was still taking classes. Then when her teachers noticed her aptitude with computers—and how her classmates would often turn to her for help—Tello was offered a position as a computer instructor.
"I really loved teaching classes," Tello says. She now wears several different hats as a Community Education staff member: She coordinates programs at the Women's & Children's Center, as well as the family literacy programs. She also continues to teach the digital learning class at the Women's & Children's Center, coordinates the Spanish GED program, and for the past decade she's taught U.S. citizenship classes on Saturdays as well. (She herself prepared for—and passed—the U.S. Citizenship Test in the same classes, years ago.)
She says she loves her many jobs because she has walked the same path as her students. "I love the program because I know how much we help immigrants," she says. "I know what it is to come to this country with no family or support, not knowing the language or the culture. We can help people learn English, learn the culture, but also learn how to access services. They can learn how to communicate with their child's school and teachers, learn how to talk to their employers."
Tello's own son is now 18 and just graduated from high school. Growing up bilingual, he received the Seal of Biliteracy on his diploma.
Says Tello, "I love this program because I see every day how we can improve people's lives."
D214 Community Education Math Teacher, Vanessa Cannon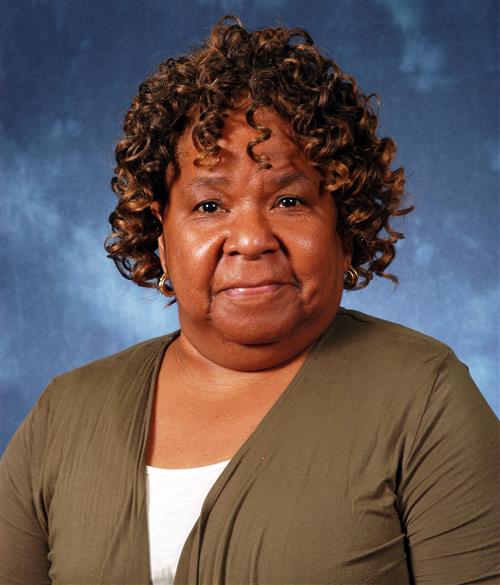 Vanessa Cannon says what makes her day is when one of her adult education students suddenly "gets" a math concept. "When I see that light go off—that's it for me," she says.
Vanessa teaches math classes in the high school equivalency program, part of District 214 Community Education. After starting with the program as a volunteer in 2008, she figures she's helped at least a hundred students earn their GEDs.
Some of those students recently wrote about their experiences on the Community Education blog. Commented one: "Vanessa has a very unique way of teaching and makes students feel so comfortable about asking questions when we don't understand something. I am very grateful for all the help she gave me while I was in her class because thanks to her I passed my math [GED] exam. I can tell that teaching is her passion!"
Vanessa's first "student," however, was her dad. "My dad was a veteran, and when I was in grade school he went back to get his high school diploma," she says. "He knew I was good at math. He showed me his book and I helped him with his math. Then he went on to community college on the G.I. Bill."
Vanessa left her hometown of East St. Louis, Illinois, to study at Northwestern University, where she graduated with a chemistry degree and a minor in math. She's been working full time as a chemist at Baxter Labs for more than 40 years.
Back in 2008, though, she says, "I needed more than just a job. I wasn't feeling fulfilled, and thought I could do more." She already had been using her math skills to tutor relatives and her friends' children in person and on the phone. After one of those friends suggested seeing if she could find volunteer work as a tutor, Vanessa discovered the adult education program at District 214.
She started as a part-time volunteer tutor in the GED math classes, then began substituting for the teacher when he was out. After three years she took over the class and joined the staff, and now teaches and tutors for three hours, three nights a week.
Vanessa says her students don't fit a single description. "They're all ages—from 19 to their late 60s," she says. Some have dropped out of high school and are ready to get their GED. Other older students, she says, "want the accomplishment to show their children. Or they want to be able to help their kids with homework, or get a better job. Some have grandchildren ready to graduate, and they want to show the grandkids they have a diploma, too."
She takes great pride in being able to help students overcome their phobias about math. "I tell my grandchildren I'm the math whisperer," she says. "When students come in, they're fearful and worried about understanding math. But I take the responsibility, and make it my issue to help them understand. If they don't understand the concepts, it's because I am not delivering it right. So if they don't get it the first time, I try a different approach."
In addition to her full-time job, and her three nights of classes, Vanessa will also tutor her students one-on-one on the weekends if they need extra help. Why? She says, "Doing adult education—it's not a job for me. It's not a career for me. It's my passion."