Return to Headlines
D214 honors top student-athletes with Howard Lester Award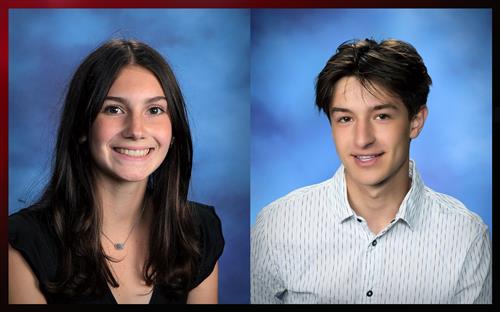 Published June 20, 2022
Audrey Ginsberg and Ben Valak are the 2022 recipients of High School District 214's Howard Lester Awards. The awards are presented annually to one male and one female senior athlete in recognition of athletic achievements, academics and character, including truthfulness, heart and effort.
Audrey Ginsberg's career at Prospect High School included IHSA medals in two sports, track and cross country. She was a member of the two-time IHSA state champion 4x800-meter relay track team in her junior and senior years, and also was a member of the Prospect team that took second at the IHSA state cross country meet in November 2021. In May, while she and her Prospect teammates repeated as state champs in the 4x800-meter relay, Audrey finished fifth in the individual 800-meter run, while also running as part of the team that finished second in the 4x400-meter relay. A four-year varsity athlete in both sports, Audrey was an All-Conference runner all four years at Prospect, including being three-time Mid-Suburban League champion in the 800-meter run. She holds six indoor school records at Prospect as well as an all-time Illinois best in the distance medley relay. Her coaches call her a focused and determined athlete, who knows how to bring her best effort every day. Audrey finished her studies at Prospect with a 4.23 GPA. She is headed to the University of Illinois at Champaign-Urbana, where she plans to continue her running career.
Gymnast Ben Valak is one of the most decorated athletes in Buffalo Grove High School history. Ben was 2022 IHSA state champion on the pommel horse, and 2021 state champion on the parallel bars. His coaches call him the most accomplished gymnast ever in the Buffalo Grove program. An incredibly well-rounded athlete, Ben performed at the top level in all five gymnastics disciplines. He finished his stellar career at the 2022 IHSA state finals not only by taking first in pommel horse, but also placing third in the all-around competition, as well as third in rings and parallel bars, and fifth in the high bar and the floor exercise. Ben will be attending Bradley University in the fall.
The awards honor the legacy of Howard Lester, who worked 42 years in education and served as the District 214 coordinator of health, physical education, athletics and driver education. Buffalo Grove High School's gymnasium is named after Lester, recognizing his lifetime dedication to young people.