Return to Headlines
Opportunity and pay make a winning formula for District 214 Youth Apprentices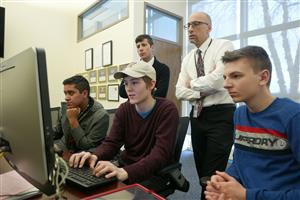 Published: January 28, 2022
Rebeca Valdez is one of 20 District 214 seniors who are currently Youth Apprentices.
During their senior year, Youth Apprentices receive on-the-job training in their chosen career path, with both a part-time, paid job and the opportunity to earn either industry credentials or college credit.
Rebeca starts her A days at 7 a.m. at her job at the District 214 IT offices at Forest View Educational Center. Her apprenticeship is as an IT generalist, working on assignments like replacing backup batteries in the school buildings.
She also takes two college courses—Operating Systems Technology and Computer Networking—that are offered through Harper College and hosted at Wheeling High School. And in addition, she takes her core English and math classes at her home school, Elk Grove.
Apprentices like Rebeca typically begin with training in the summer before senior year. The District is recruiting current juniors for the 2022-23 apprentice program; the application deadline is Feb. 1.
Rebeca is part of the third group of Youth Apprentices in the District. After starting with paid apprenticeships within the school District—like Rebeca's job—the program has expanded and now offers positions with several business partners in the community. In addition to more traditional apprenticeship areas like construction and manufacturing trades, students can work in fields as diverse as healthcare—including pharmacy tech, veterinary tech and certified nursing assistant options—and digital and information technology specialties like cybersecurity, multimedia and graphic arts.
Rebeca became interested in computer science in middle school, has taken coding classes and AP Computer Science at Elk Grove, and hopes to make a career in information technology. She credits her counselor, Scott Deutsch, for encouraging her to apply for the Youth Apprenticeship program.
After graduation, she is planning to attend Harper College through the Harper Promise Scholarship Program. After earning her two-year associate's degree, she intends to transfer to a four-year university—a leading choice is Chicago's DePaul University—to finish her bachelor's degree.
The apprenticeship has helped build her experience and confidence. To other students, she says, "If you want the experience, go for it. These positions are there for you to learn more about what you want to know in the field."