Return to Headlines
Gold medal in inclusion: Special Olympics rebrands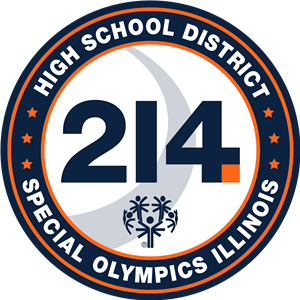 Published: January 25, 2022
The District 214 team has rebranded what used to be a Special Olympics team based at Hersey High School into a Districtwide Special Olympics team—complete with a new logo.
The District 214 Special Olympics team participates in regional and state competitions in volleyball, snowshoeing, basketball, floor hockey, soccer and track and field—and even has an individual participant in downhill skiing for the first time this year. The team includes high school students in the Career Life Skills program that's housed at Hersey, but also is open to 18 to 22-year-olds in the Specialized Schools' life transition program that is based at Forest View Educational Center.
Life Teacher and Special Olympics head coach Nicole McCormick says anywhere from 30 to 50 young adults are involved in the program at any given moment during the year. Basketball is the most popular sport, with as many as 45 people joining in. Last year the volleyball team took second at the regional qualifying event, then went on to earn a silver medal at the state tournament in Rockford.
District 214 Special Olympics is coached by all Specialized School staff: Steven Bessemer, Concetta Hoekstra and Kristine Pietrusynski in addition to McCormick. Julia Barthel serves as athletic director.
The team's new logo combines Hersey's orange with the life's program's blue identity.
The Special Olympics group has regular practices and also hosts monthly social events, both of which include students from the District's general-education programs. Peers, who often help as assistant coaches, come from Hersey's Partners Club and Prospect High School's Best Buddies group.
One of McCormick's longer-term goals is creating so-called "unified" teams that include players from both special education and general education.
"Special Olympics is a way to be involved in the community, and to feel included, to be part of a team," McCormick says. "It's very rewarding for participants to get a medal or a ribbon, but the real meaning is building friendships with peers as well as general-education peers."