Return to Headlines
'The Big Game' A Thrill For Hersey Students, Staff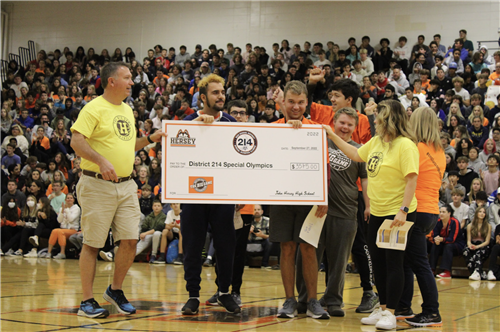 Published October 5, 2022
By Noah Festenstein | Journal & Topics
As a part of homecoming week, over 2,000 Hersey High School students filled their gymnasium to capacity for "The Big Game," a basketball game played by special education students on Tuesday, Sept. 27. Not only did the game give students an opportunity to have fun, but included a $3,575 donation toward the Special Olympics.
Sixty students from the Career Life Skills (CLS) program at Hersey got the chance to play in front of their entire school. It was a loud crowd, an energy that can only be compared to a state championship basketball game.
Special education teacher Megan Brownley helped organize The Big Game. "This is the first time we've had everybody here," she said. "We did this game in 2019 but there was a bomb threat that day, we couldn't do it in 2020, and last year only juniors and seniors were allowed in the gym. So to have over 2,000 people in here, at full capacity, it's just awesome."
The Big Game was organized to be a full 24-minute basketball game with six-minute quarters. It included the national anthem, starting lineup announcements, cheerleaders on both ends of the court, in-between quarter performances from Hersey's dance and pom teams, and halftime festivities.
Pregame rituals included recorded messages from people involved with disability programming, including Chicago White Sox TV play-by-play broadcaster Jason Benetti, who is diagnosed with cerebral palsy. "May the best team win," he said. "However there is no true loser in The Big Game, everyone wins." He thanked everyone involved and was inspired by Hersey's efforts toward inclusion.
One player who started the game was Micah Johnson. "This is the most exciting thing because of these people coming out and being super happy for The Big Game, so I'm happy," Johnson said. "This is so powerful. All of these fans here are in my heart."
Johnson is known amongst students for his charismatic and outgoing personality, leading him to be nominated for homecoming court.
Another player who was excited to step on the court was Breyanna Ingram. "It means so much to me," she said. "It means so much to everyone else. I'm very excited, and I love being here."
Throughout the planning phase, the CLS program was able to collect funds from selling t-shirts, rally towels, raffle tickets and donations that amounted to $3,575 to be donated to the Special Olympics. A big check unveiling the then unknown amount was presented during halftime by CLS and LIFE students.
"It's awesome how we can get the whole school here to honor the CLS kids and watch them succeed," girls varsity basketball player and volunteer Natalie Alesia said. "This is what we call the 'Inclusion Revolution', it started three years ago with our first game… it's a movement that we decided to take on here at Hersey."
The game itself ended with a tie score of 30 to 30. Each shot made was greeted by a loud ovation from the crowd, along with words of encouragement from those volunteering on the court. CLS students were left with a sense of freedom on the court, a freedom that was palpable amongst the entire school that cheered for them every step of the way.
"It was just awesome to have [CLS] highlighted," Brownley said. "The basketball teams are coaching the kids, there's different classes in the school that sponsor them so they decorate their lockers, eat lunch with them, make goodie bags with them, cheer for them, everyone does something to where they aren't just my kids, they are our kids."
Copyright © 2018-2022 Journal & Topics Online Media Group, Des Plaines, IL. All Rights Reserved.