Return to Headlines
School brings summer camp to kids to foster a love for reading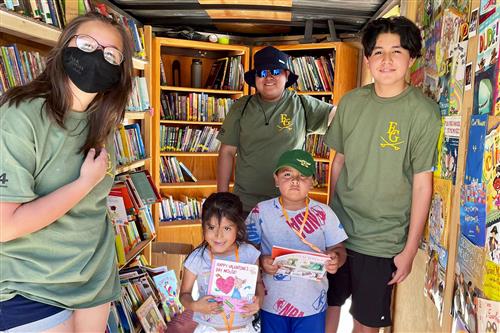 Published August 17, 2022
Fostering a love for reading. That is one of the main goals of the summer camp at Oasis Mobile Home Park to serve the children of this community.
The Oasis Mobile Home Park is located in unincorporated Des Plaines, meaning families do not have easy access to libraries or park districts. Hundreds of Elk Grove High School students belong to this community, which led students in Ricky Castro's Spanish class to come up with a solution – to bring the books and the fun to the K-5th grade children who live in the mobile homes.
Castro spearheaded the summer camp program in 2015, starting with 25 high school leaders and 65 children. This summer, 85 students led the camp for nearly 200 children. High school students in the District 214 Educator Prep Program take on a leadership role and spend the year planning. They work with Spanish heritage students to encourage elementary school children to read, explore STEM and play sports for four weeks over the summer.
"We really believe that reading is essential, and the love for reading has to begin early," said Castro. "When you have someone show you the beauty of a book, the beauty of learning, the beauty of how reading takes you to a different world – I think it's essential to create a love for learning."

Ever since the program began, Castro's goal was to expand. This year, he and 21 student volunteers were invited to the West County Youth Club in Bellwood to run a week-long camp there.

"We wanted our future teachers to experience diversity by going outside of their neighborhood. Our students developed genuine relationships with the Bellwood community. It was amazing to see the children wait for us every day because they were excited about our activities and projects," said Castro.

The camp at the West County Youth Club was so successful, Elk Grove high students were invited to come back next summer.

"I'm so proud of our students. They're showing children, both inside and outside of our community, a love for learning because they believe in it themselves. This is how we prepare the next generation to embrace leadership and service," said Castro. "As the summer camp grows every year, we couldn't do this without the support of my Elk Grove High School colleagues. They work and volunteer during the camp, and this year our social worker Ray Galarza stepped up to lead the camp one week. This is truly a team effort and I am so proud of everyone."
Any student is able to volunteer for the summer camp and must attend training meetings. Interested students can reach out to Ricky Castro at ricardo.castro@d214.org for more information.