Return to Headlines
Culinary students get a taste of restaurant business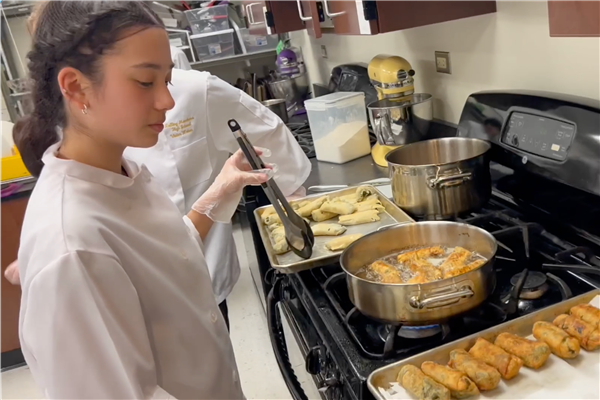 Published April 28, 2023
Customers at Rep's Place in Rolling Meadows have the opportunity to take their taste buds to Europe—courtesy of Rolling Meadows High School culinary arts students.
A dozen RMHS students researched and created the Tapas of Europe special menu that's being featured at Rep's Place through the end of May. The menu includes 10 appetizers and shareable plates representing different European cuisines.
The dishes were created by students in the ProStart 2 advanced culinary arts class, the capstone course in the District 214 career pathway. Each student was assigned a country to research and had to produce three different recipes based on that country's national cuisine. After they and ProStart teacher Kimmi Krupicka narrowed the list to the 10 final dishes, the students practiced preparing the items—and collaborated to make each one menu-ready. For instance, the class prepared several versions of the sauce used on the Spanish Patatas Bravas, testing different seasonings to get the perfect version.
Students also were responsible for costing out the food items and creating a final version of the recipes for use by the kitchen staff at Rep's, which is owned by RMHS alum Mike Reppe.
"The biggest thing about doing a real-life project like this is that it's not just filling out a worksheet and moving on. These students had deadlines, with people waiting on them for their ingredients and cost sheets," Krupicka said. "I think when you make it a real-life experience like this, the follow-through from students comes naturally. They really step up to the occasion."
The special menu at Rep's includes a QR code for patron feedback. Krupicka said the students are getting a ton of positive feedback—including from one Swedish national who commented that the students' Kottbuller were the closest thing to real Swedish meatballs they'd had in the U.S.
The student chefs also had the opportunity to serve their menu to faculty and staff at a special RMHS lunch event.
Krupicka said these culinary arts students have built a set of skills that will be useful no matter what they ultimately choose as a career. "The foodservice industry is a huge employer in this country," she said. "If these students are planning to go into the industry, they will be a hurdle above everyone else with the experience we offer them in ProStart—things like having an internship, and putting a menu item into a real restaurant."
But, she said, "These workplace skills, soft skills and customer service skills can transfer to so many jobs, and be an important part of their future career—whether it's in the foodservice industry or not."