Return to Headlines
D214 Healthcare Education: A world of opportunity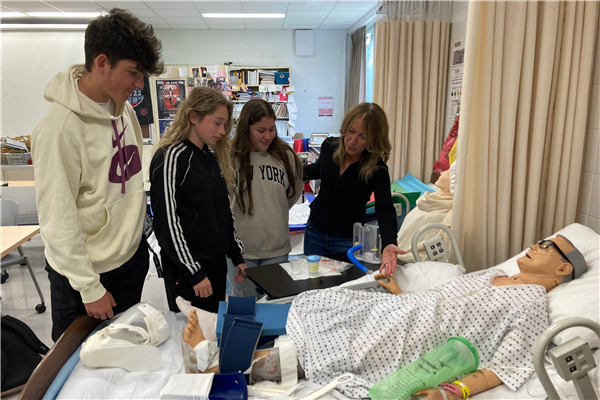 Published April 24, 2023
Few fields offer greater employment opportunity than healthcare, and District 214 prepares students for many options in this arena.
The most direct avenue to employment is a Certified Nursing Assistant (CNA) program. District 214 offers juniors and seniors 16 or older the opportunity to become a CNA while still in high school. Students can earn a State of Illinois Certified Nursing Assistant certificate from their school and can take one of two capstone courses focused on health science.
In addition, CNA apprenticeships are available through District 214's partnership with Northwest Community Healthcare. This year, CNA apprentices are working at NCH and two long-term care facilities. Apprentices receive authentic healthcare experience at a top-rated community hospital, with professionals who are mentoring them in competencies needed to complete this Department of Labor Registered Apprenticeship Program.
For some students, earning a CNA provides them with the skills to obtain employment in a variety of health care settings immediately upon high school graduation. For others, it is the first step in achieving a dream of becoming a health care specialist of some other variety.
At Elk Grove High School, Registered Nurse and teacher Pamela Boyle, who has been instrumental in developing the school's healthcare offerings, says District 214 uses the Intro to Medical Careers course and Certified Nursing Assistant training to showcase a wide variety of professions. Her own students have pursued professions spanning the healthcare spectrum: physicians, nurses, physician assistants, physical therapists, athletic trainers, dietitians, surgeons, biomedical engineers, radiology technicians and more.
As for students who earn CNA certificates and go to work straight from high school, they are likely to find their skills and training in high demand, as hospitals and many care settings depend on CNAs to work closely with nurses, serving as their eyes and ears in regard to patients' needs and providing much of their essential care.
Regardless of the long-term objective, Boyle consistently sees signs that her students are ready to succeed at the next level. "I'm always so impressed when I take our students to clinical settings," she said. "The professional staff and visitors and patients always assume that they're college students; I'm just amazed at the level of maturity and commitment by these students."