Return to Headlines
Wheeling teacher sparks a love for science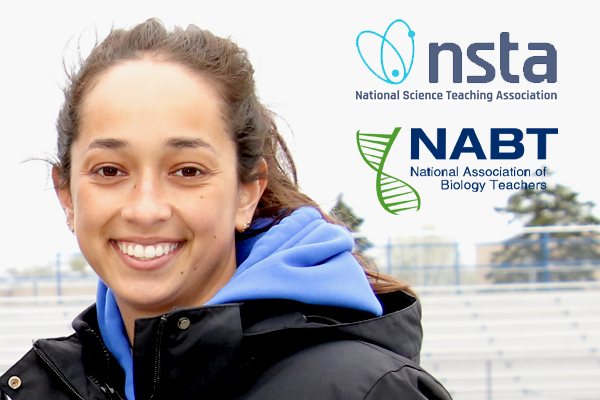 Published June 30, 2022
Every teacher has seen it: students who from day one lack the experience or encouragement or confidence to believe they can learn and succeed.
For Wheeling High School biology teacher Julia Navarro, that means students who enter her classroom saying - in words or body language or other cues - that science "isn't for them." In their minds, they simply don't get it and can't do it.
Julia believes and accepts none of this. She has geared her curriculum and approach in a way that not only changes students' minds but also has earned recognition from two national teaching associations.
Soon after learning this spring that she had earned the Maitland P. Simmons Memorial Award for New Teachers from the National Science Teaching Association (NSTA), Julia received notice that she was named Outstanding New Biology Teacher by the National Association of Biology Teachers (NABT).
Wheeling Math/Science Division Head Bruce French is thankful that circumstances brought Julia to District 214. She began her career at nearby Glenbrook South High School, but the district was compelled to go through a Reduction in Force. That meant releasing several promising young teachers, including Julia, who landed on her feet at Wheeling and immediately continued the work she'd begun at Glenbrook South.
From her first days at Glenbrook South, Julia realized that conventional means often fall short in classes composed of such wide diversity in reading and math levels, language and socioeconomic needs, special ed needs and previous exposure to science learning.
"What I've done," she said, "all kind of stems from a desire to help students for whom school is not what serves them best."
What does serve such diverse students, Julia believes, are applications drawn from the Next Generation Science Storylines project, a national endeavor created by science teachers for science teachers and built on data showing that learning improves when students work on actual problems that interest them.
"We're basically running an entire story through the year and learning all the science connected to the story," Julia said. "We can be following lives of particular animals or evolutionary trends, or eco systems, and we're putting all of this in story-based science and context."
For example, Julia began one of her classes with a natural-setting video featuring - among other things - lions and water buffaloes and crocodiles and all the other features of their habitat. Students were immediately hooked on learning what would happen next - would the baby water buffalo survive, among many other questions - setting the stage to introduce and explore biology in the context of a story that interests students.
The Storyline Project itself offers this definition: "A storyline is a coherent sequence of lessons, in which each step is driven by students' questions that arise from their interactions with phenomena. A student's goal should always be to explain a phenomenon or solve a problem. At each step, students make progress on the classroom's questions through science and engineering practices, to figure out a piece of a science idea."
While the national project is based on serving honors classes, Julia has modified the approach to better serve her students, which means making the story and problem solving more accessible to students with diverse needs and situations, be it additional reading or language support or accommodations for ADHD.
Does this approach work? For Julia, the answer is an emphatic yes. "I love storylining," she said. "I love the concept of it. Instead of teaching what we consider traditional units – like a DNA unit – it lines everything into one big unit. It teaches things in context, so it helps create topics that kids are interested in."
She has witnessed, for instance, students become interested in amino acids' influence on athletic performance and what that means for their own sport. She finds many ways to make story lines real for students, utilizing, for instance, relatable data provided by Brookfield Zoo.
Julia is so convinced of the benefits that she's devoted considerable extra time to creating presentations at professional conferences – which caught the attention of National Science Teaching Association and National Association of Biology Teachers and led to the award nominations from people outside the District who were impressed by her work on behalf of students.
"This is a testament to her national presence and the value of putting yourself out there, letting people know what you're doing within the District," said French.
While appreciative of and honored by the recognition, Julia emphasizes that the important payoff lies elsewhere. "The biggest reward for me is how much it benefits our students," she said. "I see a lot of kids who told me at the beginning of year, 'science is not for me' who later felt like they were being successful. As the year goes on, I see a lot more 'I get it' moments and aha moments that wouldn't happen otherwise."