Return to Headlines
For two teachers, Career Pathway leads to home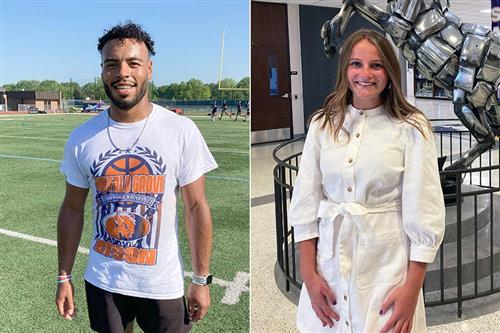 Published June 23, 2022
This is how it's meant to work. This is what District 214 envisioned: A redesigned and robust Education Pathway and Education Academy experience that would send graduating seniors off to college with a big head start in teaching experience and, eventually, bring those same graduates home to teach in District 214.
This is precisely what has happened for 2017 Rolling Meadows High School graduate Devonte Amos and 2018 Prospect High School graduate Bekah Burkhardt. Both found their path to teaching in a way typical for teens. Both had a new experience – combining a challenge and personal satisfaction with a dose of fun tossed in – and suddenly both envisioned a possible career.
For Devonte, who recently completed his first year as a Buffalo Grove physical educator and coach, the spark came as a high school junior, when his part-time job had him organizing and supervising birthday parties. "It was the first time I'd been put in a leadership position and I thought 'I really like this; I need to start figuring out what I want to do.' I'd always been around sports and was finding that I like this leadership and mentorship, so let's put two and two together."
Bekah recently completed student teaching at Wheeling High School and has been hired to teach at Rolling Meadows this fall. For her, the Education Pathway meant working with preschool classes then housed at Prospect. "I struggled a little in high school," she recalls, "and the preschool classes gave me a pathway and direction. The opportunity to work with kids every day was awesome." So, too, was the Education Academy experience and later Harper experience that gave her a taste of teaching at several grade levels, leading her to conclude that she belonged in a high school setting.
Because Devonte was a senior by the time he discovered his interest in teaching, he could not experience the entire Education Pathway. He did, however, enroll in Education Pathway classes that provided a work-based learning experience at Willow Bend Elementary School. After observing a while, he asked Willow Bend physical education teacher Dustin Sublett if he could get his feet wet working with students. For Devonte, it opened a new perspective on lesson planning and recognizing and responding to students' needs.
All of which, he says, "put me leaps and bounds ahead" of other education majors at the University of Wisconsin in LaCrosse. "A lot of my friends were teaching for the first time and saying, 'Oh, I don't know how it's going to go,' but it came naturally to me because I was set up for success through the Education Pathway."
Bekah echoes that observation and recalls that some Illinois State University classmates began their clinical work only to find that they didn't enjoy teaching at all. By contrast, she notes, "I already had 200 clinical hours, so I already felt confident going into the classroom." That confidence translated so thoroughly in actual practice that Jennifer Licata, who supervised Bekah's student teaching, likened Bekah's classroom management skills to those of a veteran teacher.
While neither Devonte nor Bekah left for college with the locked-in goal of returning home to teach, the idea intrigued both of them.
"The sense of community here is really big for me," said Bekah, who will be teaching culinary arts and personal finance. "I'm familiar with so many FCS (Family and Consumer Science) teachers throughout the District, so I felt comfortable coming back. Another huge thing about coming back to Rolling Meadows is that I worked at Juliette Low Elementary; some of those students are already at Meadows or will be, so I'll get to see all my previous students."
Devonte - who supervises the Bison Lead student group and coaches football, freshman girls basketball and track in addition to teaching – enjoys his ability to connect with Buffalo Grove students, part of which he attributes to being close to their age but partly because he knows the community. "I grew up in the area," he says. "I went to Frontier Days when I was their age. I went to Woodfield. I'm able to share my experience, not only the positives but also the negatives – the failures I had or things I wish I would have done differently."
For instance, he cites his regret about not playing basketball as well as football in high school. It's not that every student needs to pursue athletics, he says, but it's important not to leave opportunities unexplored – a theme he repeats with students.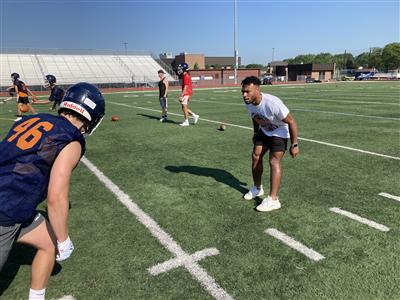 Additionally meaningful to Devonte is the chance to connect with Buffalo Grove's BIPOC students. As a Rolling Meadows student, he acutely felt the scarcity of Black male authority figures. But he made a meaningful connection with a Black security officer – someone who understood his life experiences in a way that many others could not. "Building those relationships with people whom I felt understood me, accepted me and trusted me .. that helped me develop beyond any experience in the classroom."
Now he embraces the opportunity to provide similar connections with his BIPOC students. "I'm able to see them for who they are and not kind of teeter totter around what's real and what's fake," Devonte said. "There's a big push for diversity and equity, but oftentimes people say one thing on paper that their implicit biases may not match. It's good for students to have a safe place and know that 'I can talk with Mr. Amos about things that bother me and know that we're on the same wavelength.' "
Devonte is hoping that the District's efforts to increase staff diversity succeed so that the teaching staff will more closely resemble the student population. One key to attracting BIPOC students to return to D214 teaching jobs, he says, is ensuring a positive high school experience. "Nobody," he notes, "wants to go back to an experience where they don't feel they were supported."
The importance of those connections and support is not lost on District 214 administrators. Buffalo Grove Principal Jeff Wardle said, "We were so excited at BGHS to hire a young educator like Devonte Amos, who has returned to his own community, and can be an example to all of our students of the impact they can have in their home community. The stability and sense of pride that an educator of color brings to our students of color is immeasurable."
As for Bekah and Devonte, they share the observation that 214 – like all districts – has its work cut out in helping students restore what they lost during the depths of the pandemic. That, Devonte says, means being real with students and empathizing with pandemic-related disruptions and emotional effects while at the same time moving forward and holding students accountable in ways that matter.
"So much has happened; things are different," Bekah said. "The challenge is how will we get our students back on track to be successful when they missed out on critical years of developing skills, even organizational skills. I'm excited to see what kind of new interventions we can add, because students need it."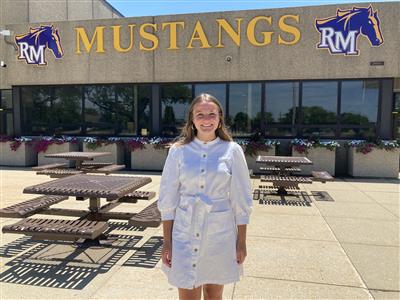 For their part, District 214 educators are happy for the return of Devonte and Bekah and are hoping that many more follow. "It has been such an honor to be a part of these students' educational journeys," said Family and Consumer Science teacher Linda Thorson. "Devonte and Bekah were standouts among their peers. They were both very appreciative of the experiences they were given. They always showed initiative, were first to volunteer to lead activities and asked their cooperating teachers for more to do. It is a privilege to first call them my students, and now I get to call them my colleagues."