Return to Headlines
Wheeling alum teaches importance of religious understanding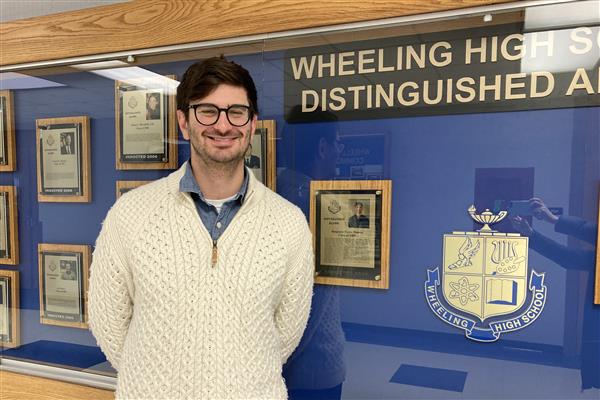 Published February 21, 2023
Ben Marcus, a 2009 Wheeling High School graduate, recently was recognized as one of the school's Distinguished Alumni. Marcus also happens to be one of the country's leading experts on religious literacy; he has worked to develop policies and standards for teaching about religion in public schools, including District 214.
Marcus's message for the District 214 community: "I want students to understand that if the First Amendment means anything, students and our communities need to live in peace, not in fear of religious discrimination." And a big part of that is understanding religion and the role it plays in our culture.
Marcus was at Wheeling for a ceremony honoring him as one of the school's Distinguished Alumni. After being recognized at a Jan. 26 basketball game, Marcus spent the next day sharing his work and insights with staff and students, in the first Religious Literacy Summit organized by the District's World Religions teachers.
When he began working on religious literacy, Marcus says his mom suggested he contact Prospect High School's John Camardella, recognized as a leading world religions teacher. Camardella and Marcus bonded over their shared passion for religious literacy, and then worked as part of a national team to create policies and guidelines for teaching about religion in public schools. That framework was adopted in 2017 by the National Council for the Social Studies, and now is used in school districts across the country.
With students, Marcus discussed the religious composition of the U.S. and how it's changing, anti-Semitism in the U.S., religion and the Supreme Court, and the recent uptick in religious-based hate crimes.
"Studying religion isn't about memorizing facts. Those are important, but we want students to think about how religion interacts with culture more broadly," says Marcus, who works as a fellow at the Freedom Forum, a nonprofit organization dedicated to supporting the First Amendment for all Americans. "It's important for students to understand religions in order to understand what's happening around them—with law, politics, medicine, public policy."
He says an understanding of religion has become a key part of civic education. "It's particularly important because our country is becoming increasingly religiously diverse. We're a nation of religious minorities," he says. "Students have to learn how to live together, with their deepest differences, and to learn how religion is shaping the world around them—and how it touches so many aspects of their lives."