Return to Headlines
Top-ranked Buffalo Grove Scholastic Bowl seeks another state title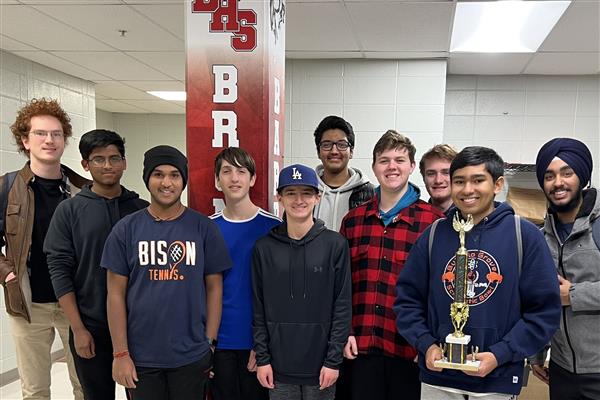 Published February 14, 2023
The Buffalo Grove Scholastic Bowl team is entering the 2023 spring state and national championship season on a roll.
Ranked third in the nation, the BGHS team went 8-0 to clinch the Mid-Suburban League East title in January for the fifth straight year. That comes after a string of exceptional early season performances, including winning the IHSSBCA Kickoff Tournament in November and finishing a close second to archrival Barrington High School at the prestigious Reinstein Varsity Tournament in late December. Junior Rohan Ganeshan was the Reinstein tournament's top individual scorer.
Buffalo Grove's #3 national ranking places them right behind #2 Barrington. The BGHS-Barrington rivalry is both local and special, with the two teams very evenly matched—and often going head-to-head. BGHS senior Karanvir Saini said the best moment of the season so far was "when we went up against Barrington at the Kickoff tournament and we won by a close margin. Rohan and Lucas (Pasdo) had an unbelievable game and the rest of the group supported them on bonus questions."
In late February, the Buffalo Grove team will try to repeat its 2022 victory at the NAQT State Championship in Champaign. And then in early March, the two-week statewide IHSA Scholastic Bowl tournament begins—culminating with the March 18 championship in Normal.
Two national tournaments, including the High School National Championship in Atlanta, follow in late May and early June.
"We have a really strong group of players this year and I'm confident we can hang with anyone," said senior Joe Van Hoy.
But as the team members will tell you, it's not just about the winning.
"I like scholastic bowl because it's exciting," said senior Pasdo, the team's math and physics specialist. "I can't explain it, but every time you buzz, the room goes silent, and when you give the right answer, there is a certain rush that is worth chasing."
Pasdo remembers a match this season where the question asked players about a specific musical note. The moderator's description triggered a memory for Pasdo—from elementary school. He drew the note on a piece of paper and showed it to teammate Ganeshan—a violinist who knew the name, for the points.
"It's crazy how versatile scholastic bowl makes you as a person," said Ganeshan. He points out that the academic competition leaves players with bits of information that make it possible to converse with anyone about virtually any topic. "But really, what I love about scholastic bowl is that the community is wonderful."