Return to Headlines
Prospect senior scores national sportswriting award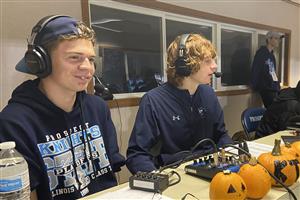 Published December 16, 2021
Prospect High School senior and multimedia student Cameron Sullivan (pictured above on the right) recently received a coveted national award in sportswriting.
Cameron received a superior rating for his sportswriting efforts at the National Student Media Contest sponsored by the Journalism Education Association. The contest was held virtually, and featured student journalists competing in writing and video categories. Prospect journalism teacher Jason Block puts the achievement in perspective: Among the hundreds of competitors from across the country, only 37 Superior ratings were issued by the judges, and Cameron's was the only sportswriting effort recognized with that high honor. "It means you are elite in your category, nationally," Block says.
Cameron won his elite recognition by crafting a story from a set of facts and statistics about a fictional high school golf team. Unlike past years where the contest was held at an in-person national convention, students competed by submitting their entries online. "I was hoping to do well," he says. "I was looking at Twitter and scrolled through the JEA announcement of the awards, and was surprised to see my name."
Cameron started in Prospect's journalism and multimedia courses as a freshman. "I started fresh, not knowing what to expect, but I've had the time of my life these past four years," he says. He has written for the school newspaper, the Prospector, and currently serves as its online editor in chief. He's also worked on his multimedia skills—for instance, serving as an announcer at Prospect football games.
A varsity volleyball player himself, Cameron has applied to seven colleges with an eye toward journalism school and a future in sports media.
Block says, "I've seen Cam every day of his high school career, and watched his writing evolve and his skills grow exponentially." Block supervises student multimedia efforts, now branded as Knight Media: the print and online versions of the Prospector—the latter found at prospectornow.com—as well as the KnightTV broadcast team (vimeo.com/knighttv) and the Knight Voices podcasts. In addition to Cameron, six other Prospect multimedia students received Excellent ratings in the recent National Student Media Contest.