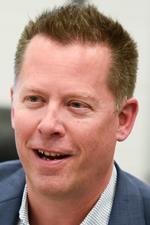 Phone:
Email:
Degrees and Certifications:
Mr.

Greg Minter

Welcome to the website of Prospect High School, one of the highest achieving high schools in the state of Illinois. A culture of PRIDE and RESPECT has characterized Prospect since its inception in 1957. Prospect primarily serves the communities of Mount Prospect and Arlington Heights, and the school benefits from the strong support of parents, alumni, and the community. Loyalty to Prospect is so strong that countless alumni return to the area so that their children can attend Prospect, and the Prospect staff has numerous Prospect alums.

The Modern Day Knights pursue excellence in the classroom and in extracurricular activities, resulting in 95% of students pursuing post-secondary education and championships at the regional, state, and national level. Prospect offers a full array of Advanced Placement courses and college dual credit courses, resulting in students earning many college credits in advance of their high school graduation. Additionally, Prospect boasts an elective program that offers students an opportunity to explore their interests and passions in technology, business, health care, law, fine and performing arts, and many more. For most students, the day doesn't end with the last bell. Prospect students are highly involved in extracurricular activities, including 28 competitive sports, multiple competitive activities such as the nationally renowned Prospect Marching Knights and Speech Team, and over 50 clubs that reflect the diverse interests of the student body.

There are approximately 2200 students from very diverse background. As many as 30 different languages are listed as the primary language spoken at home. Prospect values diversity which is even reflected in its offering of a World Religions class that is taught in conjunction with the Harvard Divinity School. School pride is on full display during the day and at school events with The Underground, an inclusive student spirit group, leading the charge. Prospect students also are invested in the community donating over 2000 service hours to the community in the annual Prospect Gives Back day held each October.

Prospect staff members are very invested in the school. They are passionate about what they teach and ensuring that students have a positive learning experience. Like the students, most staff members also are involved in an extra-curricular activity, sponsoring or coaching. A great example of this commitment to students and their experience are the Spanish, French, and Italian exchange programs which offer Prospect students an opportunity to host a student as well as visit the student in his/her home country.

Prospect High School is proud to be part of Township High School District 214, a district that is led by our new Superintendent, Dr. Scott Rowe. Buffalo Grove High School, Elk Grove High School, Wheeling High School, Rolling Meadows High School, and John Hersey High School are also part of the District 214 family.