Return to Headlines
Four athletes; eight laps; two state titles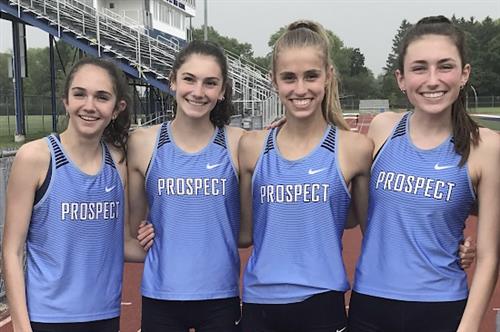 Published June 6, 2022
Prospect High School's 3,200 meter girls relay team ran away from the field and into the record books during the recent IHSA state track and field meet. Knight middle-distance runners Audrey Ginsberg, Hailey Erickson, Cameron Kalaway and Lily Ginsberg became the first foursome in almost 30 years to win the same state finals relay event in consecutive years.
Their winning time of 9:10.38 eclipsed their own mark of 9:13.20 in last year's state meet. They won the event by 11 seconds – a remarkably wide margin for an event in which the difference between first and second often comes down to only a second or two.
The win capped a year of training and goal setting. "It was definitely something we were thinking about all year, so in the moment, when it's happening, it's really exciting, because you never know," sophomore Lily Ginsberg told an NBC 5 reporter.
A repeat title by the same four-member team would be impressive enough, but the foursome wasn't done. They came close to earning a second first-place medal, placing second behind only Evanston High School in the 1,600-meter relay.
The four girls are close off the track as well, a factor they say contributes to their success as much as the countless hours of conditioning. "We're all so close and in the relay that helps, having that chemistry," junior Cameron Kalaway said.
Audrey Ginsberg, the team's only senior, echoed that sentiment, with an additional familial twist: "My sister is my best friend," Audrey said. "We're really close, so getting to do this twice with her is really cool."
Led by the relay teams, Prospect placed third in the final 3A team standings in the state meet, held at Eastern Illinois University, as Daria Tersina added to the Knights' point total by earning three medals: fourth in the triple jump, sixth in the 100-meter dash and ninth in the 200 meters.
Click here to watch their feature story on NBC 5 Chicago.