Return to Headlines
Nanotechnology students shine at state expo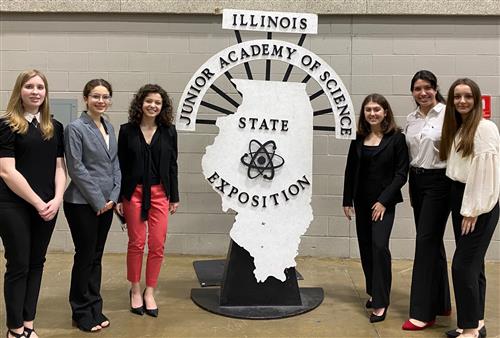 Published May 5, 2022
Where can you find gold medal scientists in District 214? In the Wheeling High School nanotechnology lab.
Nanotech students, under the guidance of Wheeling science teachers Carol Bouvier and Dr. Greg Wallace, took projects developed in class to the Illinois Junior Academy of Science state exposition in Peoria on April 22 and 23—and came back with gold medals and more.
As part of Wheeling's unique Introduction to Nanotechnology course, students develop a research project using the nanotech lab equipment. Bruce French, math/science division head at Wheeling, says each student or student team puts in more than 100 hours of work: designing an experiment and conducting the research, then writing a paper and putting together a presentation that includes a traditional science fair trifold board.
Taking home gold medals for projects that the IJAS judges said met the highest standards were:
Julia Kwietniewski & Jennifer Roman: "Characterizing Microplastic Content in Facial Cleansers"
Clare Prilutsky & Andreea Haidau: "The Effect of Soil pH on Porcine Bone Degradation for PMI Estimation"
Andrea Stanculescu: "Effect of Citrus Fibers on the Organoleptic Properties of Baked Goods"
Samantha Szatko: "Effectiveness of Nanoparticles on the NIR-Reflectance of Black Paint"
By medaling at the IJAS regional competition earlier in the year, six other Wheeling students also qualified for the state exposition: Arli Coli, Arthur Glinkin, Maks Ivanyshyn, Ivaylo Maksimov, John Papaioannou and Jackson Schmitt.
The regional IJAS judges also awarded Prilutsky and Haidau the Chairperson's Award for Scientific Excellence, while Kwietniewski and Roman were recognized as Best in Category-Consumer Sciences.
The Wheeling nanotechnology lab was installed in 2013, and features equipment unique to the District, including special microscopes that allow students to study and manipulate "nano"—or extremely small—things. Nanotechnology is typically used for industrial purposes in medicine, energy, consumer products and manufacturing. "This class is a unique opportunity in the District," says French, who says the state exposition is not a competition, but is designed to recognize excellence in scientific research and methods.