Return to Headlines
Buffalo Grove Scholastic Bowl off to a hot start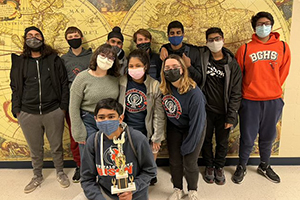 Published: January 10, 2022
Buzz in if you know the answer: What high school Scholastic Bowl team is currently ranked third in the nation, having started its 2021-22 season undefeated, with victories at two super-competitive tournaments?
If your answer is the Buffalo Grove Scholastic Bowl team, you know your stuff.
The Buffalo Grove Scholastic Bowl team has started its season with two big tournament victories: It was tops among 54 participating teams at the Nov. 20 Illinois Scholastic Bowl Kickoff tournament at Homewood-Flossmoor High School. Then on Dec. 18, BG was co-champion of the uber-competitive Reinstein Varsity tournament at Barrington, which featured top-ranked teams from around the country competing on a college-level set of questions. Sophomore Rohan Ganeshan was the Reinstein tournament's top individual scorer. Junior Lucas Pasdo, and seniors Vishnuh Bala, Bruno Ibrahim-Betts and Sanjay Manoj rounded out the winning BGHS team.
Buffalo Grove currently is ranked third among all high schools in the country—right behind archrival Barrington High School. Barrington's captain, Charles Young, has been competing against BGHS top scorer Rohan since the two were in middle school. "This definitely has all the qualities of a friendly but competitive athletic rivalry, but better—because it's Scholastic Bowl!" says BG head coach Scott Russell.
The Bison Scholastic Bowl team is just beginning its season. There likely will be renewed rivalry with Barrington at the Mid-Suburban League conference tournament. Then two state championship events begin in February: The venerable Illinois Masonic Academic Bowl, and the IHSA state championship, which includes regional qualifiers, sectional tournaments and the state finals in Normal.
Finally, high school teams from around the country are scheduled to gather in Atlanta for the NAQT High School National Championship Tournament in late May and in Rosemont for the PACE National Scholastic Championship in June—the culminating events for high school players. BGHS finished fifth at last spring's NAQT national championship.
Stay tuned for an exciting season!