Return to Headlines
BGHS student, Kristy Rubino gears up for success in the District 214 apprenticeship program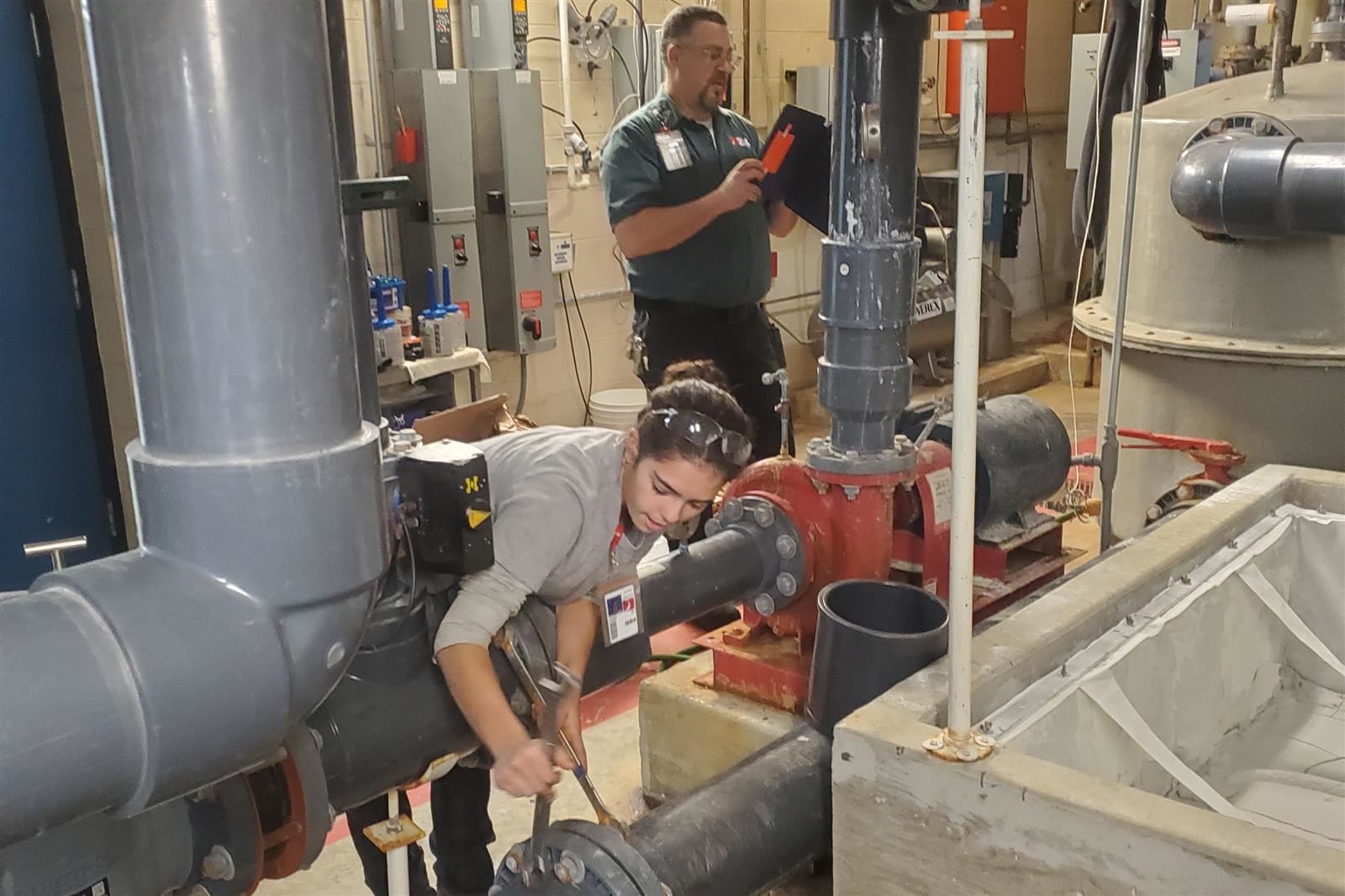 Published December 20, 2021
When she was a little girl—just seven or eight years old—Kristy Rubino started helping her dad fix things. He was a jet engine mechanic, and at home Kristy was often by his side when he was in the garage, helping fix the brakes on the car, complete oil changes or just hand him his tools.
Naturally, by the time she was headed to Buffalo Grove High School, Kristy had her eye on the District 214 automotive repair career pathway, and specifically Automotive Systems, or Autos 1. "I wanted to take Autos 1 freshman year, but couldn't; I took Intro to Engineering instead," she says. But her hands-on experience helped her quickly make up for any lost time. Teacher Jeff Bott, the division head for career and technical education at BGHS, calls Kristy a "rock star." And by junior year, District 214 staff reached out to encourage her to apply for an apprenticeship.
Now a senior, Kristy is a paid Construction & Trades Apprentice in the District 214 operations department, where she shows up at 6 a.m., either two or three days a week, for a four-hour shift. In addition to her auto expertise, she's learned all about HVAC systems, electrical, plumbing, carpentry and refrigeration. "Every day is different, depending on who needs help," she says. "We work at all schools in the District, and on all different equipment." She also is enrolled in the Practical Architecture & Construction course, rounding out her on-the-job training.
She says success in the District 214 apprenticeship program is all about being committed and putting in the time. "Anyone can just show up, but it's about asking questions and wanting to jump in. You have to get on the ladder, turn the wrenches," she says. "You can't just hang back and wait for people to tell you what to do. You have to step up, try things and get dirty. And don't be scared to mess things up. It's how you learn."
Current juniors can apply for the fourth year of the District 214 apprenticeship program, which will begin in summer 2022. Apprentice positions are available within District 214 and also with several local companies, and in a variety of fields--including multimedia, health care, information technology and more. Applications are due January 15. Apply at this link: https://d214.smapply.io/
In her auto class, Kristy says she was the only girl. "Everyone always asks me about that," she says with a laugh. "But I grew up a tomboy. I'm so used to it. It really makes no difference to me."
Kristy is headed to Southern Illinois University after graduation. She was accepted into SIU's automotive technology program, one of only a handful of four-year bachelor's degree auto tech programs in the U.S. Her goal: eventually owning her own auto repair shop.
But she plans to minor in education, she says. "When I'm done being on my hands and knees, I can teach!" she says.