Return to Headlines
District 214 Honors our Veterans
Published 11/12/2021
Since 2014, District 214 has held school on Veterans Day to teach students about the sacrifices of our veterans. This year, all of the schools across the District honored them in a unique way.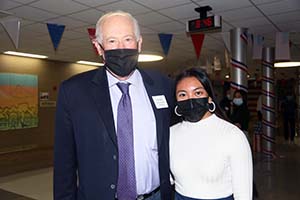 Elk Grove High School held its 8th annual Veterans Day Celebration, with a focus on the War on Terror. Former Governor Pat Quinn, State Representative Michelle Mussman, State Senator Laura Murphy and Gold star families attended a special breakfast and assembly. A special exhibit, Portrait of a Soldier, was also on display. It features more than 300 hand-drawn portraits of service members from Illinois who died serving the country following 9/11.
---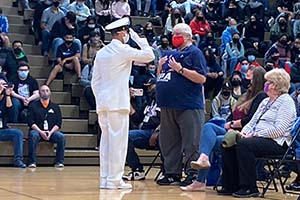 Wheeling High School recognized about 25 fire, police and staff members who served during their school assembly. Students in the NJROTC program also did the 13 folds of the American Flag and presented it to Vietnam Veteran Henry Quathamer. The 74-year-old never got a welcome home ceremony. It was an emotional moment for Quathamer and his family to share 53 years later.
---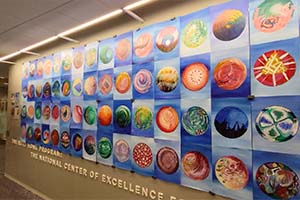 About 120 Hersey High School art students, led by teacher Sue Renner, worked on a special 9/11 mural for the Road Home Program at Rush University Medical Center. The group provides free mental health care and wellness for veterans. Staff members at Hersey gifted the mural to Rush on Wednesday, and it will be on display for a whole month. The mural is meant to bring healing to veterans, their families, first responders and healthcare heroes.
---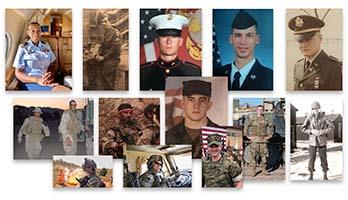 Buffalo Grove High School created an armed forces collage and displayed it on school monitors throughout the day. It honors staff, their immediate family members and community members who served the country. In the afternoon, about 40 students attended the Veterans Day Ceremony hosted by the Buffalo Grove Park District.
---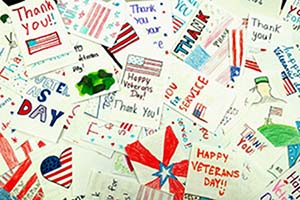 Prospect High School students spent their lunch hours writing thank you cards for our veterans and active duty service members. In all, they created a few hundred cards. Also all month long, the school is collecting donations for the group "Veterans Exiting Homelessness," which helps veterans as they transition to permanent housing.
---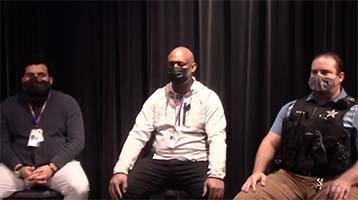 Rolling Meadows High School created a video featuring two staff members Brian Sanchez and Nathaniel Montgomery and its school resource officer Chris Danner, who all served in the military. They talked about their time serving and gave advice for students interested in joining the armed forces.
---
At our Specialized Schools at Forest View Educational Center, each of our programs recognized veterans in their own unique way.