Return to Headlines
RMHS vet science students unleash winning effort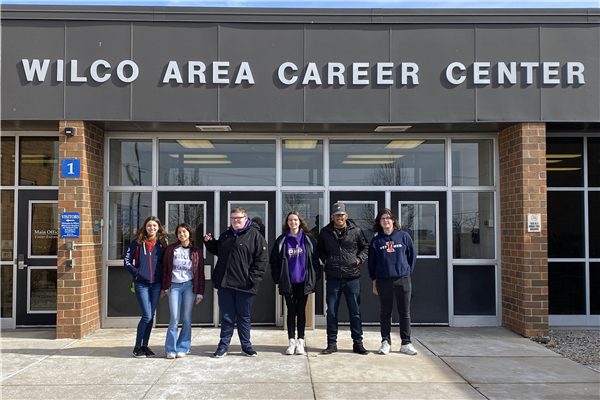 Published February 28, 2023
The Rolling Meadows High School Vet Science team finished first at the recent Spring Vet Science Invitational, and is headed to the March 4 state tournament at the University of Illinois Urbana-Champaign.
The RMHS team finished first out of 10 teams at the Spring Invitational, with team member Maya Samlan the tournament's top individual scorer. Joining her on the team are Ayleen Soto, Ben Biazo, Fernando Cabral Gutierrez, Liam Funk and Hallie Swanson.
The Veterinary Science Career Development Event was created by the Future Farmers of America to provide opportunities for students to develop technical knowledge and to demonstrate practical skills. It's a competitive event with several components. A written exam covers a variety of topics, from anatomy and diseases to medical terminology and patient management. A math test evaluates skills like calculating the proper dose of medication, for instance, as well as calculating costs and figuring invoices. An identification test asks students to identify equipment, common parasites and animal breeds. Finally, in two hands-on practicums, students must also demonstrate their ability to properly handle and restrain animals, and also demonstrate basic clinical skills, like removing a bandage, removing sutures and administering medication.
The winner of the Illinois state tournament will advance to the national FFA Vet Science event later this year.
Rolling Meadows is the only District 214 school to offer Veterinary Science classes; students like Samlan, who goes to Prospect High School, travel to teacher Kendall Wright's classroom to take these courses. This is the RMHS team's first year competing in the Vet Science events, and Wright couldn't be more pleased with their performance.
Said Wright, "I am super proud of this team because since this is our first year, we were not entirely sure what to expect. We went to the fall invitational and scored sixth. With that experience under our belts, we came back, focused on practicing, and did very well.
"The entire team has worked very hard in and out of class to prepare and we are excited to compete at state!"