Return to Headlines
Hersey's Todd Hatfield earns VFW regional honor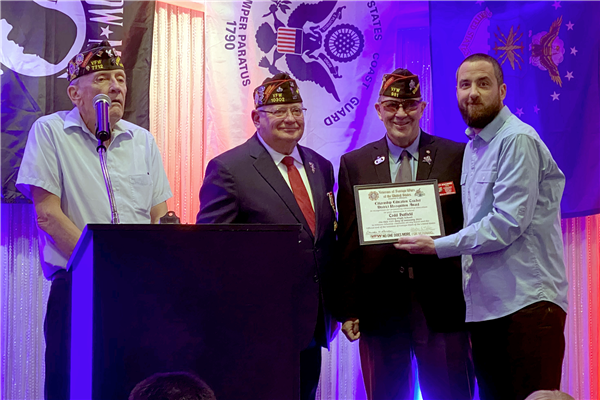 Published February 2, 2023
John Hersey High School multimedia teacher Todd Hatfield recalls one of the last conversations with his father.
"He looked right at me and said, 'You have to keep this going for as long as you can.'"
Helping veterans is personal for Hatfield. His father was a Vietnam veteran and was awarded the Bronze Star and Purple Heart for heroic service in combat. Hatfield witnessed his father's struggles and how he overcame them to give back to society. Recognizing his years of dedication to various veterans organizations, the Veteran of Foreign Wars named Hatfield the Illinois Region 4 Teacher of the Year.
Hatfield has been including veterans in his curriculum since he began teaching in the early 2000s, and his father was along for the ride. His dad spoke about his military experience at school assemblies and helped organize food drives for A Soldier Journey's Home, a non-profit organization dedicated to building homes for wounded veterans.
"He was just as excited and invested as the students and myself," Hatfield said.
Hatfield's passion for service led to bigger opportunities for students to learn the importance of giving back. For the past eight years, he led a group of students across the country to help document the work for A Soldier Journey's Home. His mass communication students photograph and film the builds for the organization's website; his graphic arts students produce all the custom apparel. So far, they have traveled to seven different states and plan to go to North Carolina this summer.
For the last four years, Hatfield has been a volunteer with Project Headspace and Timing, a charity that promotes positive mental health for veterans. His graphic arts students design, print and produce various garments for them, and his multimedia students are just beginning to partner with them in the same manner as A Soldier's Journey Home.
"My father has been gone now for almost five years. I am following his words and keeping this going as long as I can," said Hatfield. "I hope my students get real-life applications and learn to give back to something bigger than themselves. It's our civic duty as teachers to continue to teach what makes this country great and the sacrifices that are made in order to do so."