Return to Headlines
PHS physics teacher earns top state honor from peers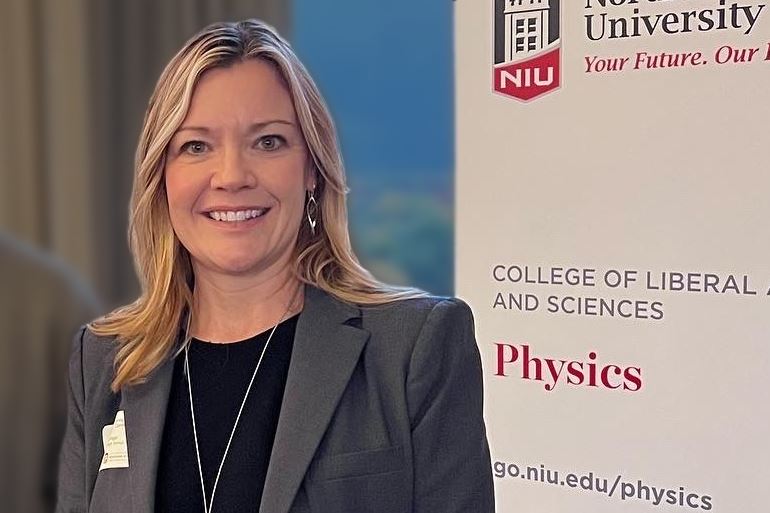 Published November 3, 2022
You can't reduce physics to a multiple choice question, but it's not a bad format to assess Katie Page's recognition as Physics Teacher of the Year for Illinois. Was the Prospect High School teacher honored for her:
a) ability to generate student enthusiasm?
b) focus on student voice and choice?
c) role as a peer coach in District 214?
d) use of social media to collaborate with peers and engage students?
e) all of the above?
While the most likely answer is "e," the bottom line is that the Prospect teacher is this year's honoree, as selected by the Illinois Section of the American Association of Physics Teachers (AAPT).
"I try to spark joy and fun in my classroom," Page says. "I try to do things that students get excited about. We've done things like running on a lily pad in the pool. We've done a car push, where we literally push a full-size car. We do parachute drops."
All of this, she explains, is meant to engage every student and not only those who see physics as a college major or a career. "Students are going to learn more because they're connected in a way that makes sense to them," she says.
Which sounds a lot like her emphasis on student voice and choice. "I try to make sure students every single day are speaking out loud in my class," Page explains. "I set up my lessons to make sure each student is working with a partner or in a small group, where each student is turning to another and talking and then possibly sharing out to the class." She frequently leads her students in "convince-your-neighbor" exercises, in which they detail why they think one answer is better than another. As for student choice, Page explains that she often grants students latitude in choosing how to demonstrate their understanding of a concept.
Page brings a similarly open approach to her work as a Teaching and Learning Facilitator (TLF), commonly referred to as an instructional coach or, even more colloquially, as a teacher of teachers. District 214's TLF's lead professional development sessions and, more informally, coach and collaborate with peers on classroom strategies, best practices and more.
Page enthusiastically describes her work of onboarding new teachers. "Just being able to have simple conversations to make their lives easier instead of them having them figure out things the hard way, to help clear up some of the common struggles that new teachers have, is very rewarding," she says.
Finally, Page, who has served as social media manager for Physics Northwest, a local chapter of the American Association of Physics Teachers and the Illinois Federation of Teachers Local 1211, finds value in social media when it comes to working with peers and engaging students.
Because the number of physics teachers is relatively small–some smaller schools may have only one on staff––she says the group has developed a vibrant online community, often sharing ideas through #ITeachPhysics.
"It's a great way to see what other people are doing," she said. "I'll scroll through the hashtag and see something that makes me think 'Oh, that's a cool idea,' and sometimes I'll come back to my team and say, 'Here's a better way to teach this.' Sometimes it flips what we're teaching on its head for the better."
As for social media and students, Page says it's better to leverage it than to ignore or resent it. "Kids love seeing their projects and work on Instagram, to re-share their own stories. If they're going to scroll anyway, let them scroll through this." She also taps into students' competitive nature, posting online, for example, such physics-relevant questions as which students have the quickest reflexes or longest hang time when jumping.
Page, who is in her 10th year at Prospect, was nominated by Joliet Community College Assistant Professor of Physics Andrew Morrison and recognized at the Illinois AAPT annual meeting on Oct. 14 at Northern Illinois University in Dekalb. She has been active for 28 years with AAPT, which meets monthly to share presentations, demonstrations and ideas.
"I was shocked to get the news; I thought they got the wrong person," Page said. "But my 87-year-old mother was very proud and was telling everybody. For me, the best part was hearing from former colleagues and reconnecting."