Return to Headlines
Prospect track coach earns top state honor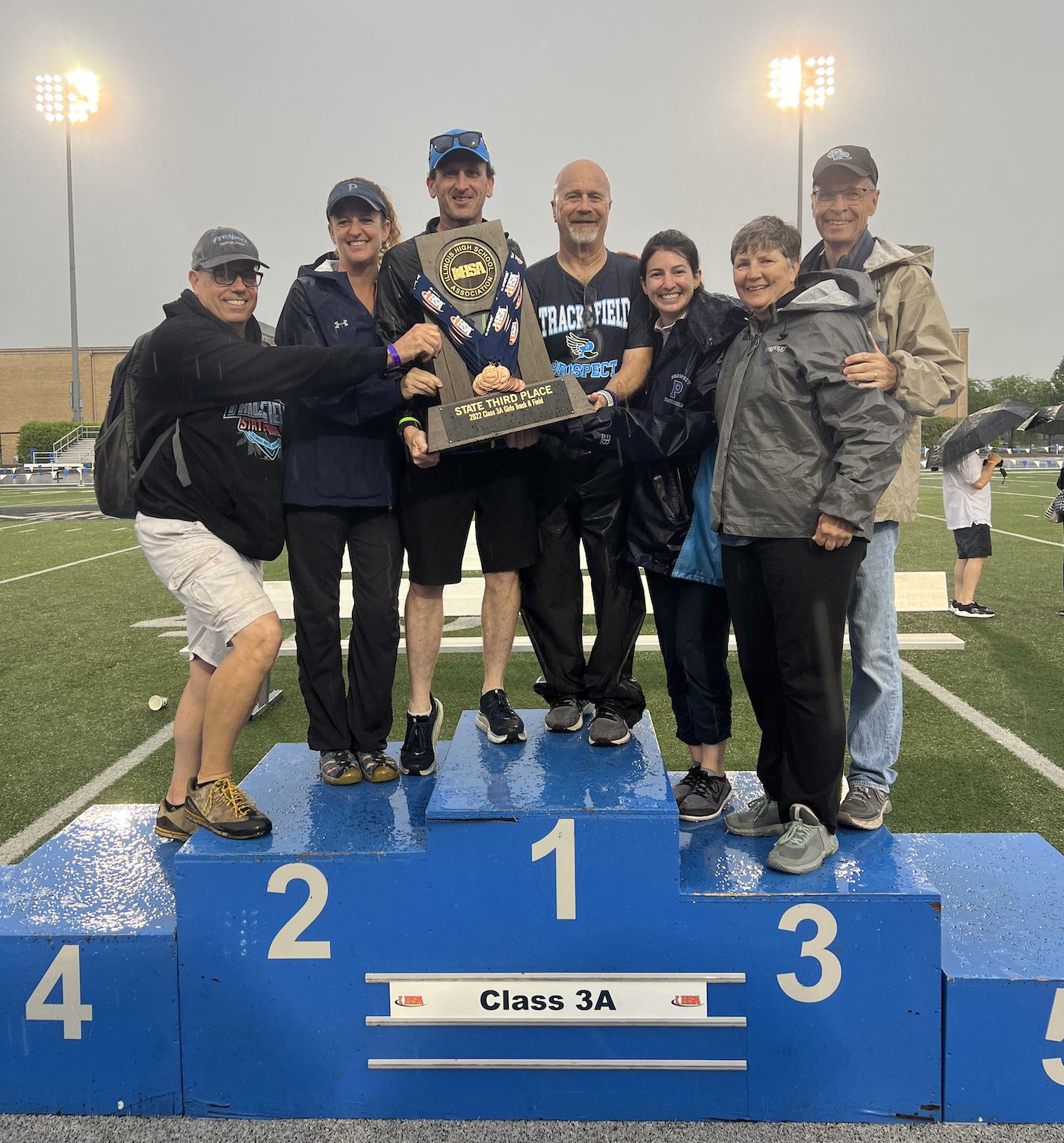 Published October 19, 2022
These days you can count on two things from the Prospect High School girls track and field team: for the athletes to excel and for Head Coach Pete Wintermute to deflect credit.
The girls team finished third in the state last spring, missing second place by a single point and earning the best team finish in school history. During the preceding weeks, the Knights captured sectional and Mid Suburban League titles. But Wintermute, when approached by a local reporter during the conference meet, said "I just drive the bus."
Tell that to the Illinois High School Association (IHSA), which has named Wintermute the 2021-22 girls track and field coach of the year - an honor he finally mentioned to his parents and siblings only at his wife's insistence.
Track and field is often considered an individual's sport, but Wintermute is having none of that, either from a coaches' or athletes' perspective. First, he says, none of the Knights' success materializes without the efforts of a great group of assistant coaches: Lance Burmeister, Michele Burnett, Ken Johnson, Melissa Jones, Dave Raub, Judy Raub, Andy Weis and Jim Wormsley.
"I feel that I do so little," he says, "because our coaching staff is so tight and puts together the lineups that give the girls the best chance to succeed."
Moreover, he credits coaches from whom he learned the ropes as a young assistant. "I was blessed with the opportunity to be surrounded by amazing coaches who taught me so much," he said. He cites former Prospect coaches Mike Stokes, for the unbridled enthusiasm he inspired in athletes; Mike Kamedula, for the way he empowered students to work for their own success; and Dave Wurster, for his analytical approach to identifying the best training regimen for each track or cross country athlete.
As for his athletes, Wintermute - a Prospect math teacher - also has nothing but praise, citing the dedication and leadership his students provide, to the team's benefit. He says the girls are "incredibly coachable" and that they define the track and field program by their connection to one another "The girls do what they do for each other," he said.
That approach shows up in performances. The Knights' third-place finish in last spring's state team, for example, was a true team effort, with Prospect earning points from two relays and five individual events, a testament to the team's depth.
"This is why we go into teaching and coaching," Wintermute said. "To help kids recognize their potential; to see them do amazing things that they once thought they were not capable of doing."
And how do his athletes view the coach of the year's work? One girl summed it up for a reporter last spring as the team was building momentum toward its impressive state meet performance: "His choice of music on our trips could be better. But he's a great coach, and that's what's important."