Return to Headlines
Students pledge to become Future Educators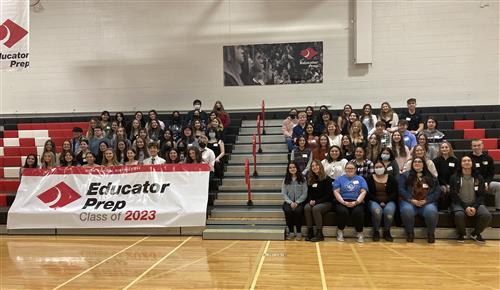 Published April 11, 2022
In an auditorium ceremony at Forest View Educational Center, students recite as one:
"As a future educator, I will treat the profession and those who work in it with dignity and respect. I will embrace and elevate individuality and diversity. I will strive to motivate and to engage."
This pledge was part of a commitment ceremony Friday for juniors in the District 214 Educator Prep Program. These 170 students are seeking a career in education and have either taken college level education coursework this year, or plan to next year as a senior. They plan to enter a field that's facing growing teacher shortages. A newly published survey by the Illinois Association of Regional Superintendents indicates that 90% of schools across the state are experiencing staffing shortages. For some students, it serves as a motivator to pursue this career.
"The passion keeps on growing. I want to make a change, I want to be different, and I want to inspire lives so that my future students can even possibly follow this pathway as well," said Adriana Rios, a Buffalo Grove High School senior and one of the keynote speakers of the event.
"I do believe that diversity might be an issue when it comes to the teacher shortage," said Diana Gaucin, also a Buffalo Grove High School senior and keynote speaker. "I hope that this motivates other minorities to step up and become teachers as well, so we can motivate others that look like us."
The District partners with Eastern Illinois University and National Louis University to provide students an accessible and affordable option to become future teachers. Students that go on to become Ed Prep Scholars at either of these institutions are guaranteed student teaching placements and employment interviews with D214 or one of its nine partner elementary schools.
"District 214's program is the most extensive I've seen. It's also the most comprehensive and systematic. I work with a lot of school districts and D214 appears to be ahead of the game in every measurable and meaningful way," said Dr. Jay Bickford, a History Education Professor at EIU. "We need it. The state of Illinois and our country needs educators. This is a wonderful boost going forward."
The Educator Prep Program is open to all students in the Education Pathway. Click here to learn more.