Return to Headlines
Seal of Biliteracy recognition speaks volumes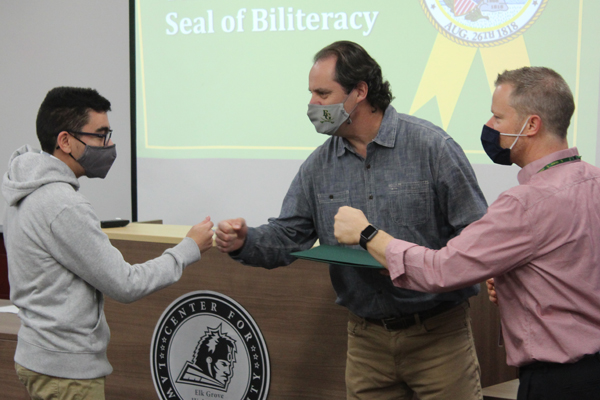 Published: 12/7/2021
When Pablo Rodriguez was awarded the Seal of Biliteracy, he says he immediately added it to his resume and his college applications.
The Seal of Biliteracy is presented to students who have become proficient in two or more languages by the time they graduate from high school. For Pablo, the Seal serves as recognition that he's fluent (including passing Advanced Placement tests) in his first language, Spanish, but also successfully passed a test proving that he's mastered English as well.
Now a senior at Elk Grove High School, Pablo moved to the U.S. from Guatemala when he was 14 years old. He spoke no English, and remembers failing his first class presentation because he couldn't put his ideas into proper English sentences. But living with a stepsister and surrounded by friends who didn't speak Spanish, Pablo says he had to learn, and learn fast. "I'm proud and my family is proud of everything I have accomplished," he says.
Pablo was one of 45 EGHS seniors and 2021 graduates who recently were honored for receiving the Illinois Seal of Biliteracy. They are part of a group of 218 students and graduates of District 214 who have earned the Seal so far this year.
The Seal of Biliteracy is a national program developed more than a decade ago. Currently, 44 states and Washington, D.C., have approved a statewide Seal of Biliteracy. Illinois school districts, including High School District 214, award the Seal, which is included on student diplomas and on transcripts.
"It is such a life skill to be able to communicate in more than one language; it makes a student versatile and well-rounded, and I think it allows people to think in different ways," says Kirsten Fletcher, French teacher at EGHS. "In addition, knowing a second language is a skill desired by employers, and there are a lot of colleges offering credit for earning the Seal. It really can open doors for students."
The 45 Seal recipients honored at EGHS represent students fluent in English and also in Bulgarian, French, Italian, Polish and Spanish. Some of them, like Pablo, are heritage speakers who took an English Language Learners test to demonstrate their mastery of English. Others are students who have been active in the District's Dual Language program for years, or those who have taken multiple years of language classes and proved their fluency with high scores on AP language tests. And a final group studied their family language and cultures in weekend classes.
Senior Marina Mitrinovic grew up speaking Italian at home with her immigrant mother and earned the seal after mastering French at EGHS. Says Marina, "I am definitely very proud of earning the Seal of Biliteracy! I plan on going into International Studies, so for me, language is very important. It enables me to communicate with others I wouldn't be able to without knowledge of their language, and it allows for such a greater depth of discussion and connection with those people. Each language has its own accompanying nuances, cultural elements and perspective on the world which I feel has given such amazing insight into various global issues."
Recognizing the accomplishments of heritage speakers in particular was critical for the California team that created the Seal. Says Tim Philips, EGHS division head for social science and world languages, "For heritage speakers in our country, unfortunately, much of their experience historically is that their home language can be a barrier. Now this program recognizes that it can be an asset."
Pablo Rodriguez already knows that. He has an after-school job at a retail store in Woodfield Mall, and says he's often the only Spanish speaker on his shift. "If an employer sees the Seal of Biliteracy on a job application, they're going to love it," he says. "At my job, if I'm the only one on the shift who speaks Spanish, and someone needs help, I can talk to that customer. Knowing another language makes your life better, but can also make someone else's life better, someone else who can benefit from your knowledge."
If all goes as planned, Pablo says his language journey is not over. He's hoping his college experience includes studying abroad—maybe a place like Vietnam, he says, where he can tackle yet another language. "Communicating in one language is essential, but now imagine communicating in two, or even three languages—being able to express your emotions and ideas, and learning about new cultures too," he says. "Languages will open opportunities for you."