Return to Headlines
Calisch Arts Unlimited Award 2022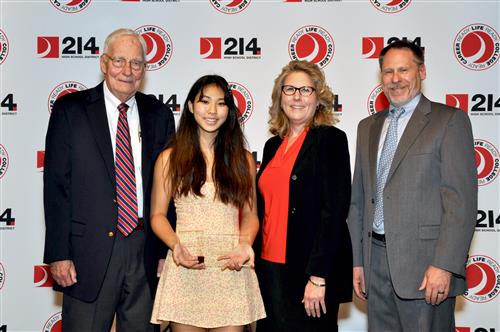 Published June 13, 2022
Each year, the Richard W. Calisch Arts Unlimited Award is presented to the District 214 senior who best exemplifies creative excellence in the arts. The award was established in honor of Richard Calisch, a former English teacher and Arts Unlimited program coordinator. Each District 214 comprehensive high school nominates a senior student for this recognition.
The 2022 recipient of the District 214 Richard W. Calisch Arts Unlimited Award is Autumn Hong from Rolling Meadows High School—a two-year drum major for the Mustangs marching band and captain of the speech team.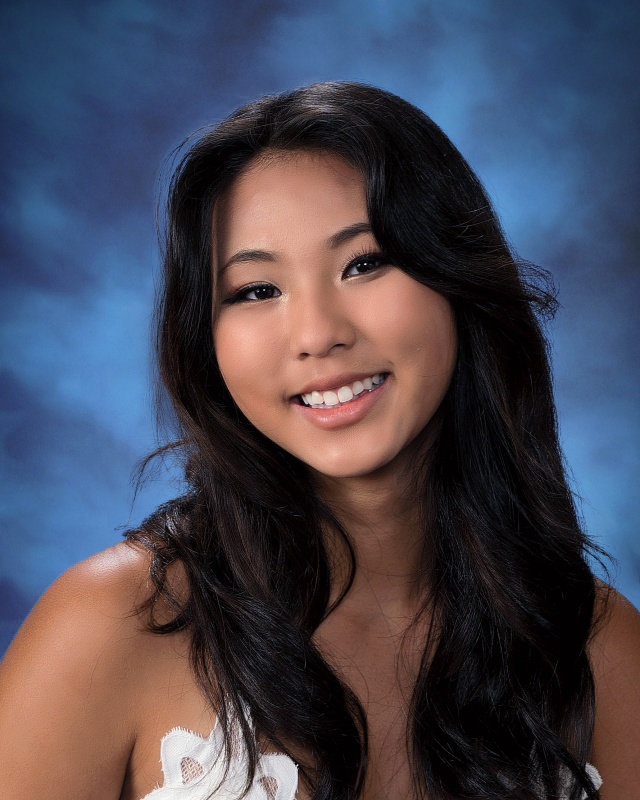 Autumn used her artistic and leadership talents in myriad ways over four years at Rolling Meadows.
Autumn started as a clarinet player in the Rolling Meadows concert and marching bands, playing alto saxophone for the jazz band as well. Her career with the Marching Mustangs culminated with two years as drum major, where she proved a diligent, motivated and compassionate leader. She was named Outstanding Drum Major at the Sandwich Renegade Festival, and also was recognized as Outstanding Soloist at the Mundelein Jazz Festival.
But Autumn also sought out other opportunities to play music in school groups: taking on bassoon for symphony orchestra and concert band and leading the pit band for the school variety show—and displaying her talents on as many as six different instruments during variety show performances.
Band Director and Fine Arts Coordinator Christopher Buti calls Autumn a skilled and accomplished artist, a respected leader who demonstrated a drive to succeed in multiple areas of arts and music.
Autumn was also a member of the Rolling Meadows speech team for four years, including two years as team captain. She created a big sibs/little sibs mentoring program to provide support for novice students on the team. During her senior year, she was a six-time medalist in speech, including being named MSL conference champion and an IHSA sectional qualifier in special occasion speaking.
She also was a member of theater department productions, including putting her speech talents to use for radio plays during the pandemic.
This year's other nominees represented talent and leadership in dance, vocal music, orchestra, band and visual arts. They included:
Lexi Conejo, Wheeling High School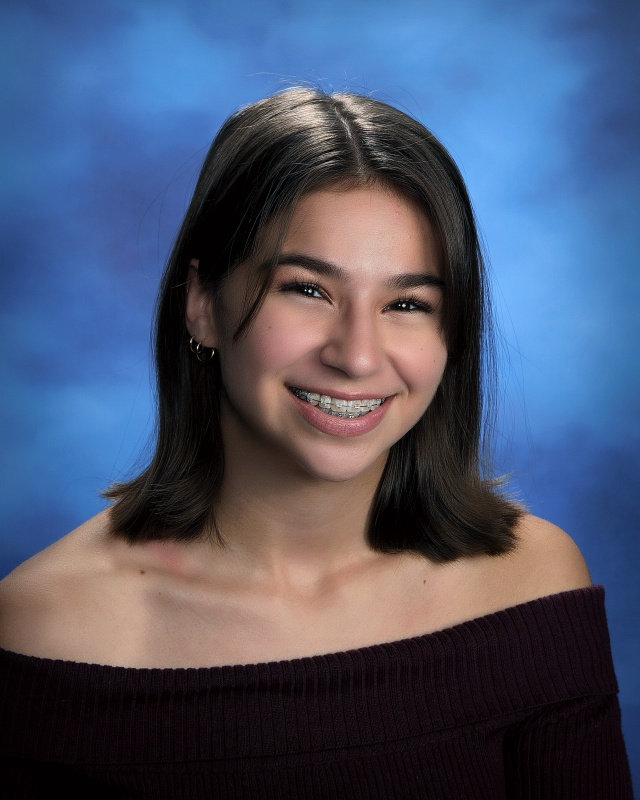 According to her vocal music director, Lexi Conejo's gift is her love and respect for the creative process—as well as her ability to be involved in numerous activities while staying completely invested in each one.
Lexi spent her four years at Wheeling High School involved in every aspect of performing arts, as well as the speech team. She was a four-year member of the Wheeling Orchesis dance troupe, where she was named the group's Senior Star this year. She was named to the District Honors Dance Festival, and as a member of Orchesis had the opportunity to perform at regional and state dance festivals.
She sang in the Wheeling gospel choir, chamber choir and the Mozaik extra-curricular musical theater group, serving as section leader for all three ensembles. She also used her vocal and dance talents as a performer in six different musical productions. In addition to participating in the District Honors Music Festival for three years, Lexi was named outstanding sophomore and junior vocalist during her years at Wheeling.
In addition to her vocal and dance work, Lexi spent four years in the Wheeling orchestra program, and three years on the speech team.
She also used her talents in service to the community, serving as choreographer for the Orchesis children's workshop, and as a performer and student director at the philanthropic Dance for Life in Chicago.
Elizabeth Ferrazza, John Hersey High School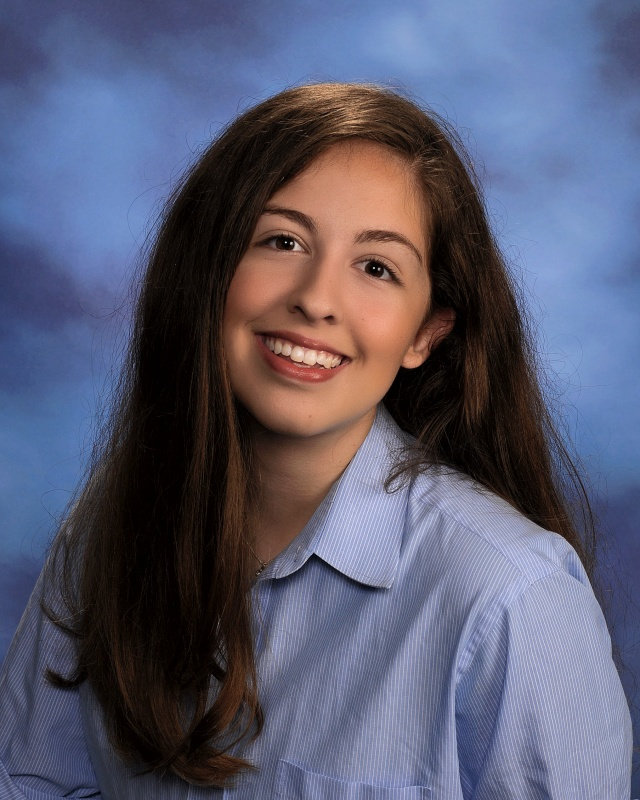 Lizzie Ferrazza had a unique and widespread impact during her four years at Hersey High School—including serving three years as Nanook, the school mascot, and writing, editing and filming the daily morning announcements.
Lizzie was a four-year member of the Hersey theater program, writing, directing and performing in the cast of four musicals and six plays. She also performed in community theater productions at Harper College, and spent three years as a member and officer of the Hersey Improv Club.
She used her creativity and performing talents when she took on the role of Nanook the Huskie. When school was closed during the pandemic, Lizzie put on her Nanook costume and filmed videos full of support and encouragement for the student body. Her Nanook YouTube channel features "Nanook: Home Alone" as well as "How Nanook Stole Christmas" and other videos, some of which have been featured on local TV news programming.
Lizzie was often the voice of Hersey: In addition to writing and delivering the morning announcements, she was the emcee of the Variety Show and Holiday Assembly, and was the first student announcer for the District's Robot Rumble competition.
Lizzie was also on the Hersey speech team, and served as teacher's aide for the Advanced Theatrical Acting class.
Kennedy Gerber, Buffalo Grove High School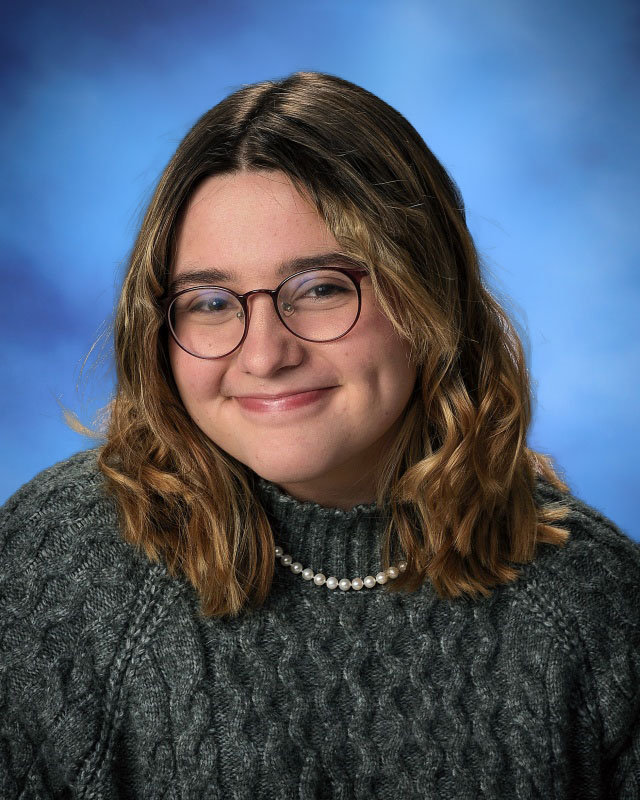 Her teachers say that Kennedy Gerber carries ideas from one art form to another. That's clear from her arts involvement at Buffalo Grove High School, where she took seven art courses and was named 2021 winner of the Harper Art Show. Kennedy spent her Saturdays this past year at the Milwaukee Institute of Art and Design Portfolio class, winning a coveted presidential scholarship.
But Kennedy also used her artistic talent in music, where she was a member of various Buffalo Grove choirs for four years. And she worked for four years as a member of the Theatre Arts Crew, becoming the go-to lighting board operator for school productions and earning the designation of Master Electrician in her junior year. This past year, she also served as stage manager for Grease the musical. She volunteered to operate lights and sound for school events, including assemblies, concerts and special presentations.
Raphael Lausa, Elk Grove High School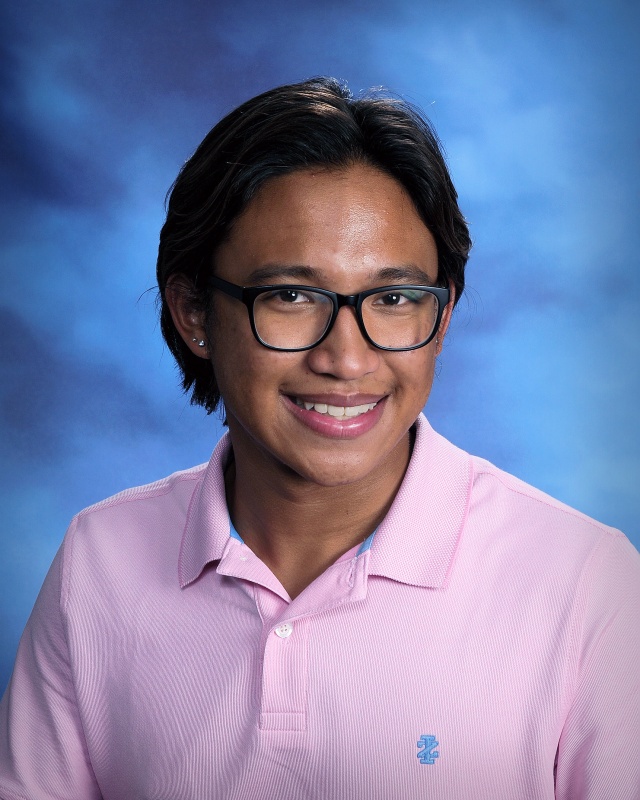 Raphael Lausa's passion is sharing his love for music and making the arts accessible to everyone. Not surprisingly, he plans to pursue a degree in music education and hopes to work at the high school level.
He gathered teaching and leadership experience at Elk Grove High School, where he played violin and served as concertmaster for the Symphony Orchestra and the Chamber Orchestra. His superior talent was recognized when he was named a member of the District 214 Honors Orchestra as well as the ILMEA district orchestra. He also played with a variety of other state and regional ensembles.
Raphael also was part of the District 214 Educator Prep program for future teachers, participating in teaching internships at the District's feeder schools. On his own he created and conducted what he calls the "Lunch Buddies" for Elk Grove orchestra members to meet and play music together during lunch hour. He arranged music and acted as conductor for the group, whose year culminated with a performance at the spring orchestra concert.
Raphael taught himself other instruments as well: string bass, the viola and trumpet, which he played in the Elk Grove Jazz Band and in the pit band for the spring musical.
Rey Tello, Prospect High School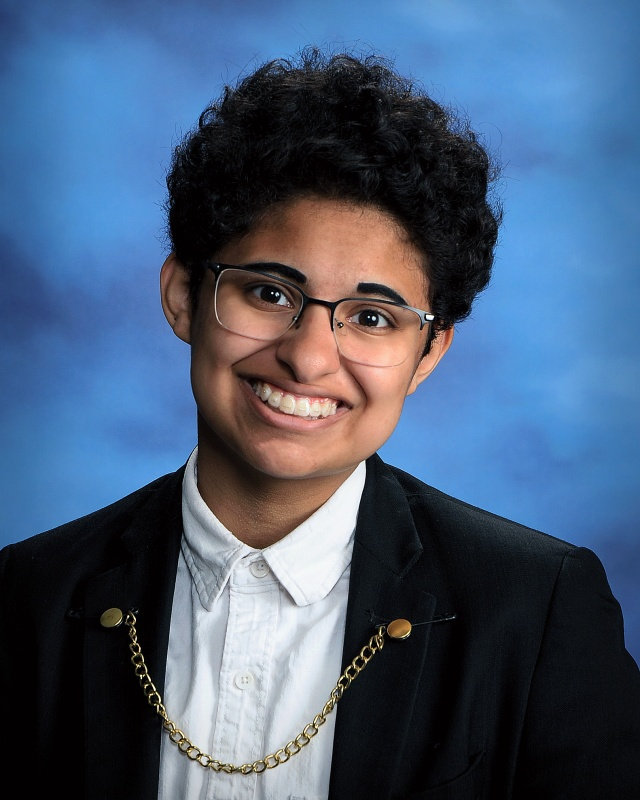 Rey Tello took advantage of every arts opportunity—across the spectrum—at Prospect High School. He spent four year playing cello in the orchestra, and four years in dance classes. He also was an actor, dancer, writer and crew member for Prospect's theater productions, including serving as a student director.
Rey is a visual artist as well, with his work featured in Prospect's Art Magazine for the past three years. During senior year, he served as a cartoonist for the Prospector newspaper.
Outside school, Rey manages Instagram accounts for both his digital and visual art as well as his photography. He also writes fiction. He plays piano and electric guitar in addition to cello.