Return to Headlines
Senior AP Art Student Sophia Baldassano is Best in Show
RMHS Senior AP Art student Sophia Baldassano has been chosen Best In Show for 2-Dimensional art at this year's Harper Area High School Art Show.

The Harper Art Department faculty juried a wide range of 2-dimensional, 3-dimensional and 4-dimensional work, selecting work that went above and beyond the assigned criteria. The winners were noted for the innovation and engagement in their work.

"Winning this award felt really surreal," Baldassano said. "I don't even think I knew such an award existed. Opportunities to be in shows and galleries are super slim as a highschool student so the odds of being recognized in such an honorable way wasn't something I had ever expected."

Baldassano's digital drawing was chosen from over 300 works of art in the 2-dimensional category, which included works of art from students at 12 District 214 and District 211 schools.

"It's a really unique experience because you get to see the vast variety of artistic talent from school to school," Baldassano said. "I see a lot of work and sometimes forget that people my age made these pieces."

Rolling Meadows High School AP Art and Design Teacher Martha Nava noted Baldassano's impressive skill as well as the ingenuity that led to this award.

"She is a master with oil painting and continues to use that often," Nava said. "She has also dedicated herself to mastering new processes such as the digital app Procreate which we provide for our Advanced art students. It is her practice and determination that created her successes with the digital drawing."

Baldasso's participation in AP Art & Design has also had a positive impact on her skills and growth as an artist. While art class looks very different this year, Nava has made use of technology like Jamboard and Zoom breakout rooms to try to foster the camaraderie, inspiration and positivity of the more typical classroom experience for Baldassano and the others.

"There isn't anyone more delightful," Nava said. "She is intelligent and kind. Very supportive of her classmates...She is incredibly humble and open to learning new things. She also is so insightful and makes class critiques and conversations very productive and inspiring for her peers and me."

Baldassano also acknowledges Nava's direct impact on her work and development.

"I also developed a really good relationship with Mrs.Nava," Baldassano said. "Because of this we often talked about how I could make my work better, how to experiment, and other ideas I should consider. This guidance gave me really good support in my progression as an artist."

Baldassano has plans to pursue her art after graduation. In addition to the award, Baladassno received a scholarship to Harper for an art course. She also plans on taking a gap year to build her portfolio prior to applying for schools.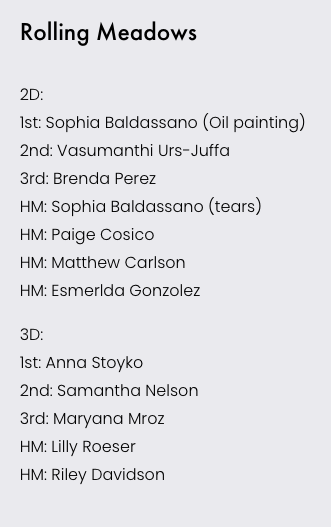 As many things, the ceremony was virtual this year - you can see the presentation here: 37th Annual Harper Best in Show winners video.
Please congratulate ALL students included in this year's Harper Art Show. We have limited space, and it is one of our most prestigious art shows of the year:

Alexandra Lucas, Amy Schwartz, Azima Khamidullayeva, Brenda Perez, Bryan Alarcon Margarito, Colin Portillo, Dustin McMichael, Gabriela Jarmul, Emma Rae Gerwen, Gianna Martire, Jasmine Hernandez, Maria Chavez Estrada, Marie Fundora, Matthew Carlson, Mayelli Reyes, Mick Lawlor, Paige Cosico, Shelby Paluch, Sophia Baldassano, Stephanie Zurawski, Vasumathi Urs-Juffa, Esmerelda Gonzalez, Riley Davidson, Anna Stoyko, Martyna Mroz, Lilly Roeser, Ohla Kushnir, Samantha Nelson, and Zoe Parchim.
Students were nominated for this show by their very dedicated and talented Art Instructors: Martha Nave, Cathy Pach, Kevin Mueller, and Kent Dyer.