Return to Headlines
The RMHS Dance Team qualifies for state
After a season requiring endless flexibility and creativity, the RMHS Dance Team competed in State on Saturday, March 3 for the first time since 2015.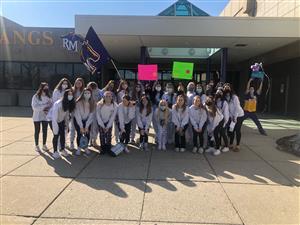 "It's an accomplishment for them to get to State on its own considering everything they had to go through," RMHS Dance Team Head Coach Alex Bedoya said.

The team's season started with outdoor practices over the summer. In the fall they were granted 20 contact days to practice; however, all of that was put on pause for over a month as the Covid numbers worsened.

"We were fortunate enough to learn our competitive dance and then everything had to be put on pause for a month," Bedoya said. "And then when cleared to start practicing again competitions started within a week."

The team entered in three different competitions prior to the State series, where they would send in pre-recorded videos of their dance. In a normal season, the team would be able to make changes between competitions utilizing the judges' feedback. That was not the case this year, however, with a turnaround time of sometimes only one or two days between receiving feedback and the team's next recording.

While the State competition experience was not the same this year, RMHS Stampede and Bedoya were able to still make it special. There was a small "walk-in" on Saturday, March 5 with Stampede cheering for the girls as they entered the school for a State watch party in the dance room, complete with snacks and special State sashes made by Bedoya for the dancers.

Despite the challenges, Bedoya said, "the girls did a good job keeping it together, being focused in practice and being quick with applying feedback."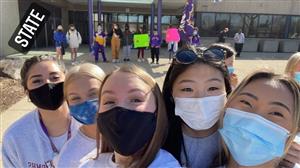 Members of the Dance Team include: Anna Gainulin, Natalia Bielic, Emily Woods, Cassidy Connolly, Leah Chacko, Ellie Sakuma, Ninjin Batbold, Clara Nesvacil, Allison Widawski, Lily Bradish, Madison Rentner, Emma Marchetti, Jerilee Dorris, Cassidy Fanella, Bridgett O'Grady, Trinity Wozny, and Kelli Lorden
The Dance Team is coached by Alex Bedoya.