Return to Headlines
Candice Epps is state-bound for Poetry Out Loud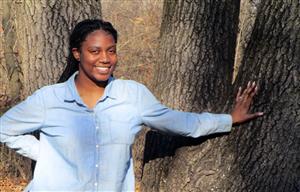 Candice Epps, a senior at RMHS, won the Suburban Chicago Regional Poetry Out Loud Competition and advanced to the State Competition to be held March 8th. For the State Competition, Candice is required to memorize and record performances for three different poems. To watch one of Candice's amazing performances, please click here. Congratulations, Candice!
Forty Rolling Meadows classrooms held classroom Poetry Out Loud competitions where students memorized a poem and performed it in front of the class. We held school-wide competitions on Monday, February 8th and Wednesday, February 9th where the forty classroom winners competed to be the Rolling Meadows representative at the Chicago Regional Poetry Out Loud Competition, held on February 17th.
Here were the results from the school-wide performances:
Candice Epps - School Winner, Rolling Meadows
Representative at Regional Competition
Amanda Maxwell - Runner Up for School Winner
Sanjitha Boobalan - Senior Class Winner
Jay Sojitra - Junior Class Winner
Angela Tisbert - Sophomore Class Winner
Julia Bolash - Freshman Class Winner
Here were all of the classroom winners:
Ashley Bermudez, Morgan Buchek, Lydia Chavez, Colin Cummings, Lizbeth Hernandez, Saniya Herold, Moriah Hunt, Amber Jackson, Catherine James, Katherine (KC) Jones, Andrew Kuehl, Nicky Losasso, Oliwia Lubinska, Oksana MydlorTsvan, Isaiah Nwibani, Hanna Oloro, Khushali Panchal, Brenda Perez, Vanesa Perez, Daniel Ridler, Lili Rodriguez, Suzanna Rogowski, Roula Sameer, Imani Scott Burke, Heni Soni, Sena Tiryaki, Nett Velasco, Tia Visor, Anna Weakland, Cecily Wengronowitz, Addison Wozniczka, Ekaterina Yordanova, Amber Zamora Gomez, and Paige Zukauskas.
Classroom runner-ups:
Ashley Burnidge, Veronica Domingo Gonzales, Adolfo Flores, Joey Jones, Samantha Kuo, Monica Kupiec, Delaney McCabe, Kyle O'Brien, Stephania Ortega, Krish Patel, Caroline Peters, Annmarie Pollard, Joseph Stege, and Daniela Zamarron Diaz.
Congratulations to all of the competition winners!
Izabella Wnek, English Teacher, is RMHS's lead for the Poetry Out Loud program
The school performances were judged by the following English Teachers: Steph Svarz, Mark Maxwell, and Izabella Wnek.
To learn more about Poetry Out Loud, please visit the organization's website at: https://www.poetryoutloud.org/.